Project Design Team Wednesday~Super Simple Rag Quilt
Posted by administrator on Wednesday, October 10th, 2012
Hi Riley Blake readers!!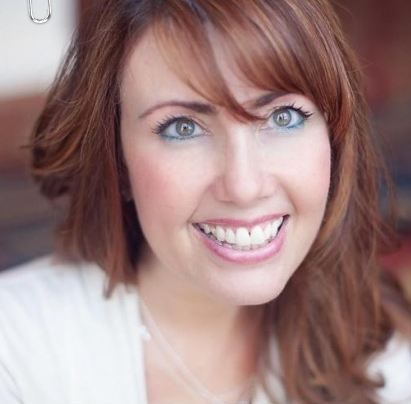 It's Jen from
Tatertots & Jello
. I am learning so much being a member of the Riley Blake Design Team. My sister had a baby this summer and I was so exited to make her a quilt for her baby shower. I had never made a quilt on my own before, luckily my mom agreed to help me - thanks mom!! For this quilt we used the beautiful Riley Blake
Verona
,
Daisy Cottage
and
Emily Taylor
fabrics.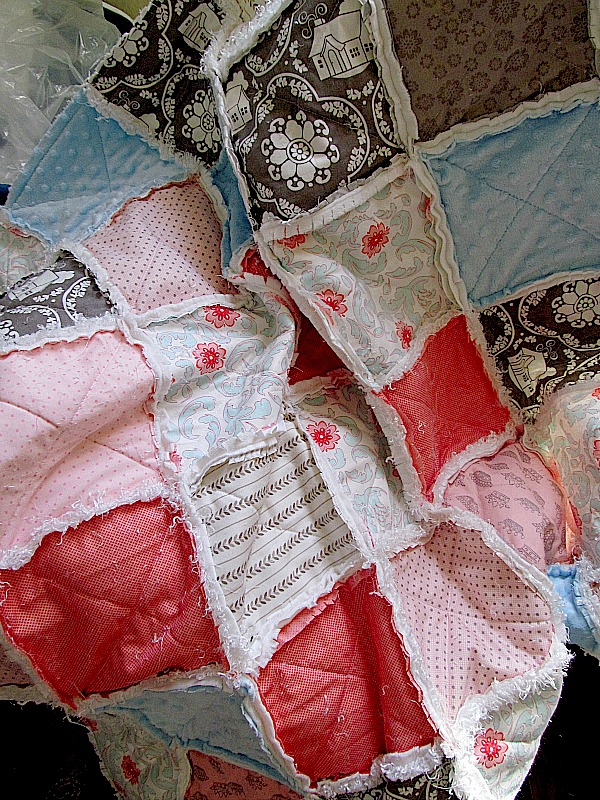 Here's how we made this simple quilt: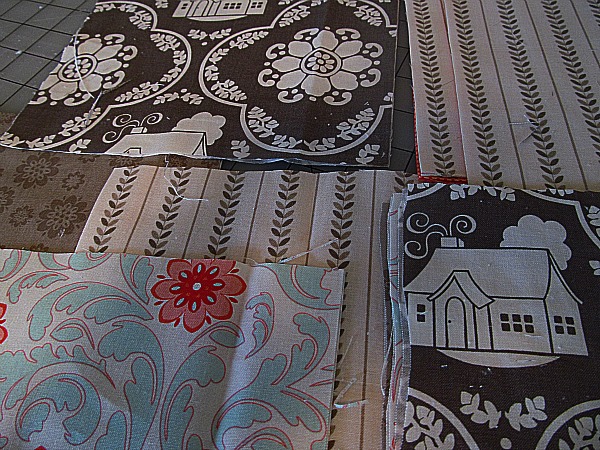 First we cut the front, back and batting into 8" squares.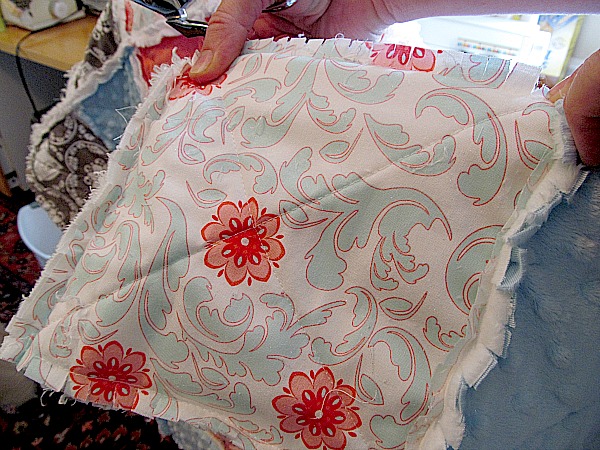 Then we stitched each quilt square with the three layers together using an X stitch from corner to corner.
Next we decided where we wanted the squares placed on the quilt. If you have a design wall you could use it to place the squares and visualize the quilt.
Then we sewed the squares together by rows with all the seams on the same (front) side. (Back side is all white minke and other fabrics.)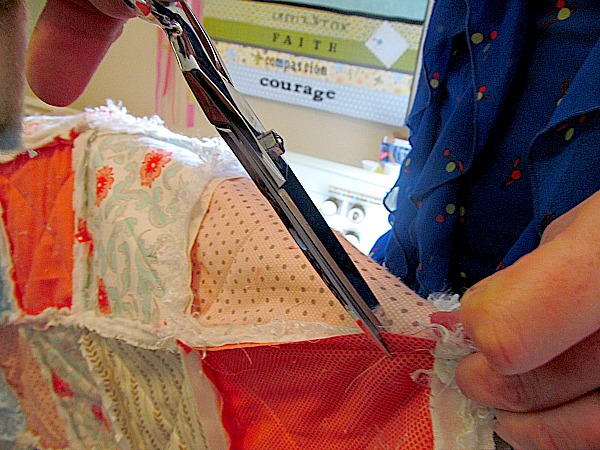 Last of all, we cut every seam about 1/4" in all along each seam so cuts are about 1/2" apart -- but don't cut into the seam that holds the squares together! This part is time consuming so plan on it.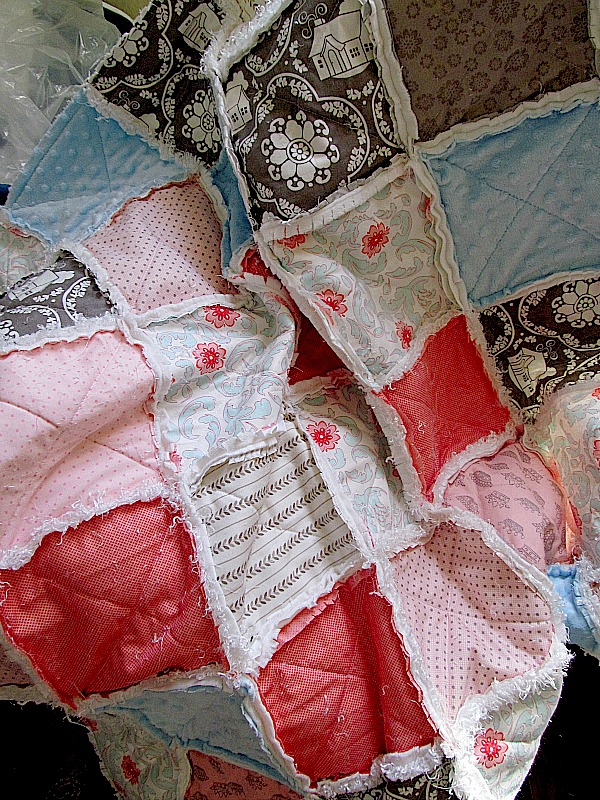 After it has all been cut, in order for it to fray, it must be washed and dried.
Here's a good tip
-- Because there will be so much lint, I take it to a commercial washer and dryer, and let them deal with the lint. It saves on your washer too!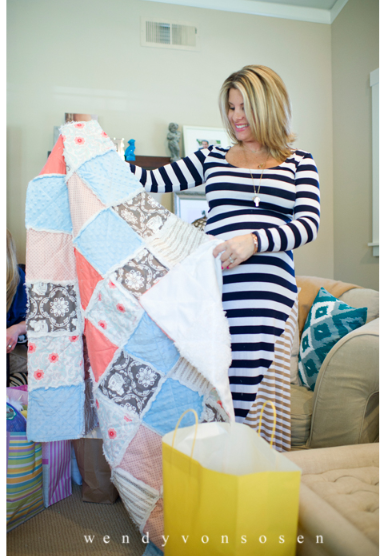 It was so much fun to see my sister's face when she unwrapped the quilt.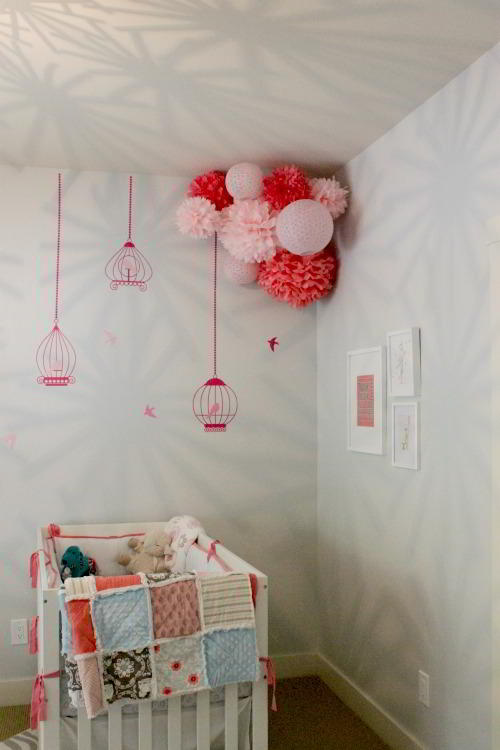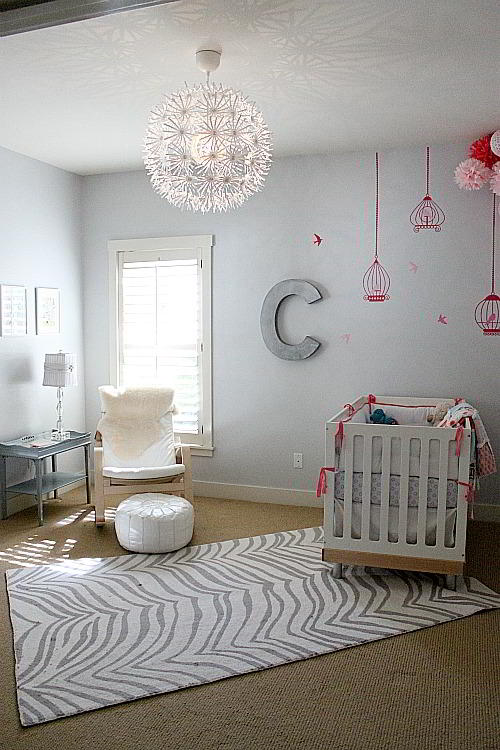 And I love how beautiful it looks in her baby's nursery!! And, here's a picture of her sweet little girl -- isn't she cute?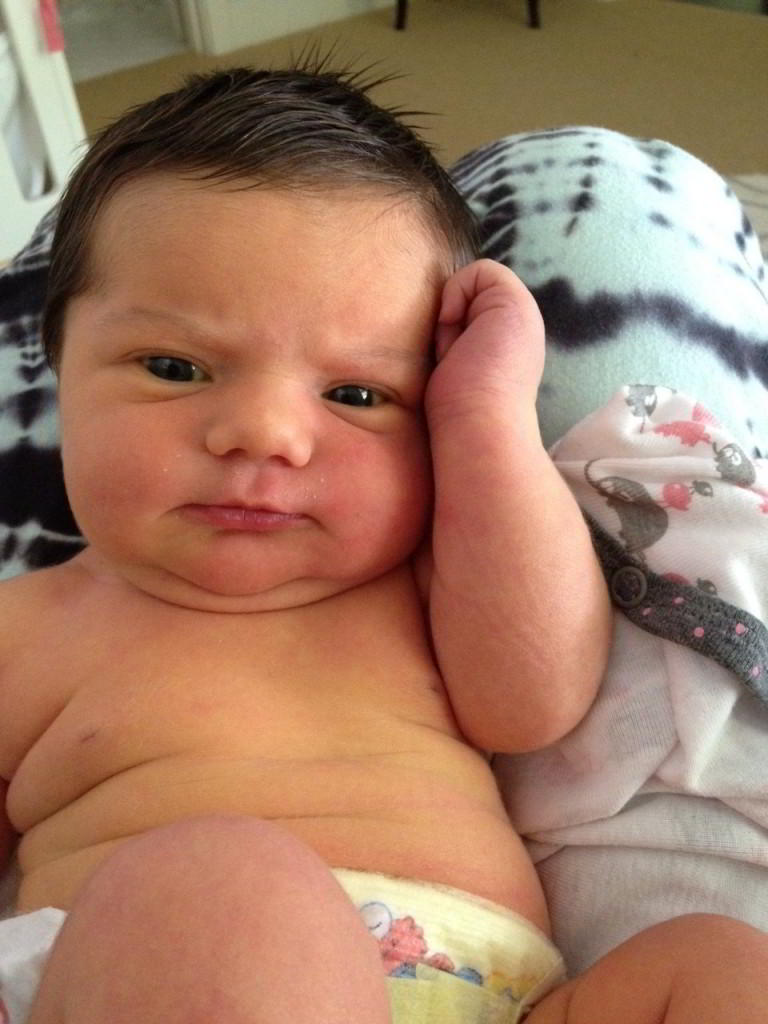 Thanks for letting me stop by and share my project with you!!
xoxo

---
Comments
I love the nursery - it is beautiful - for a beautiful baby. Thanks for sharing

by Paula
October 10th, 2012 at 8:38 a.m.

Auguri per il bambino, bello il quilt! complimenti ! claudio.raho@fastwebnet.it

by Anna Maria
October 10th, 2012 at 8:50 a.m.

I have made a lot of rag quilts for babies. Soft, cuddly and colorful. But clipping the fringe thru layers can be a challenge and hands that ache after cutting so much. But, after trial and error on scissors for cutting rag quilts, the best out there are Fons and Porter rag quilt scissors. Easy on the hands and short, so those seams stay intact. Just a FYI

by Pat
October 10th, 2012 at 10:01 a.m.

Beautiful quilt, room, & of course her precious baby!

by Karyn
October 10th, 2012 at 10:28 a.m.

What a sweet baby.....and a sweet Aunt for making such a cute quilt.

by Cindy
October 10th, 2012 at 11:40 a.m.

I love the nursery and the sweet baby. You were sweet to tackle a quilt for your sister.

by Tamie
October 10th, 2012 at 7:19 p.m.

I have an accuquilt & the rag quilt square die cute makes it sew easy!! The edges are already cut for you.

by Carrie
October 10th, 2012 at 7:39 p.m.

Thanks for letting me stop by and share my quilt. It was so fun seeing my sister's face when she opened it. And a big thanks to my mom!! xoxoxo

by jennifer
October 11th, 2012 at 1:31 a.m.

Very cute quilt! I thought I read that rag quilts were a no-no for babies though, due to all the loose threads...

by gale
October 11th, 2012 at 5:33 p.m.