Project Design Team Wednesday~Fabric Covered Inspiration Board
Posted by administrator on Wednesday, February 27th, 2013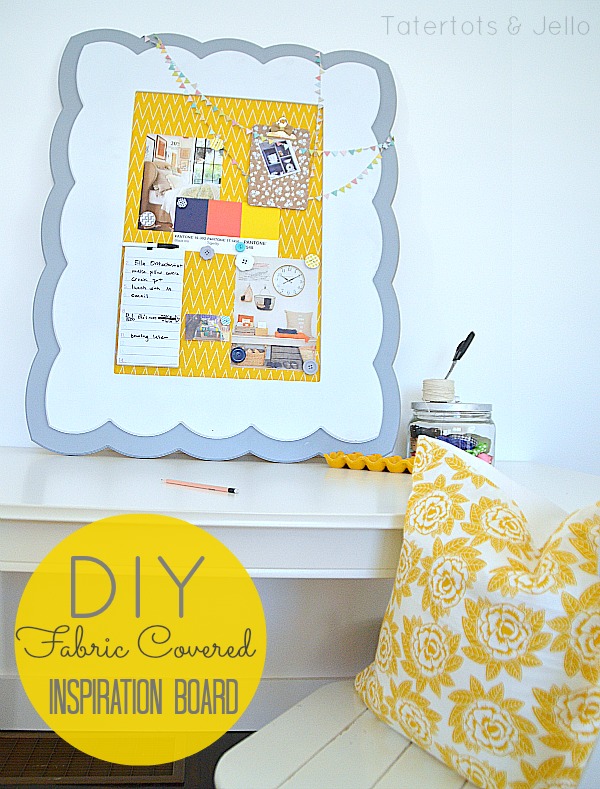 Hi! I'm Jen from Tatertots and Jello and I am so thrilled to be on the Riley Blake Design Team!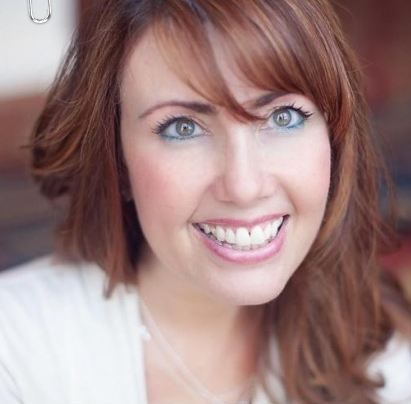 I am working on a big Craft Room/Office Redo at my house. And one of the main projects I wanted to tackle was a BIG inspiration board. I love the new
Indie Chic line of fabric
that just came out: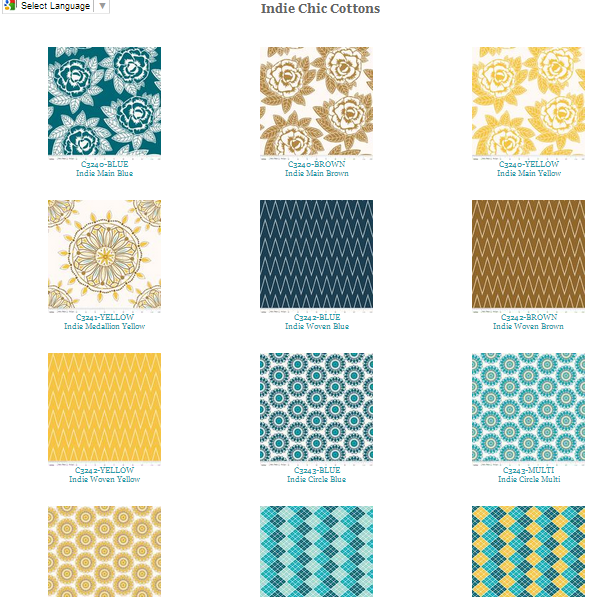 I was so excited to use some of the fabrics from this design line for my project!
Here's how I made a GIANT Magnetic Fabric Inspiration Board for my office:
Materials:
Frame -- I used a 30 x 40 Double Frame from

Cut It Out Frames

Fabric - enough to put around the opening (20x30) plus 3 inches on all sides.

Buttons to make into Decorative Magnets (magnets and adhesive)

Duct Tape or Painters Tape

Tin Snips

Metal Sheeting (from the hardware store)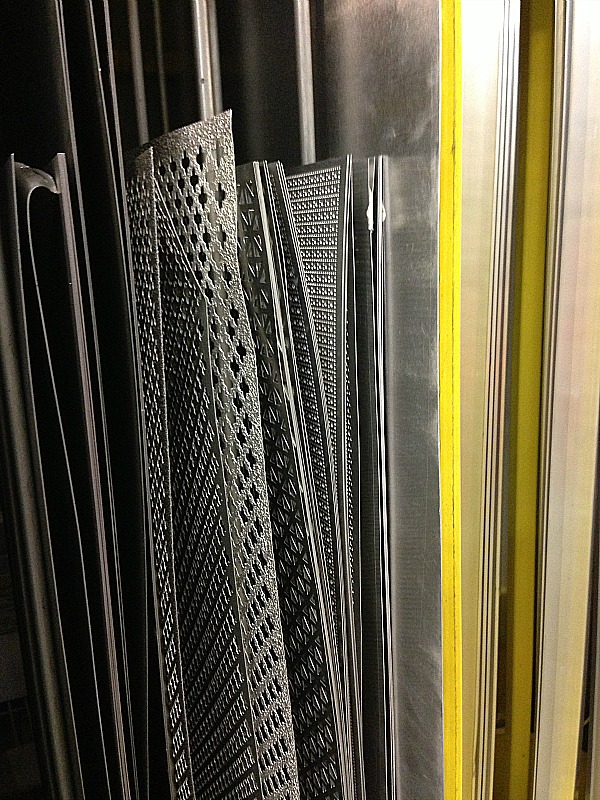 Here's how to make a DIY Fabric-Covered Magnetic Inspiration Board:
1. Take the opening in your frame, add 3 inches on all sides for the fabric you will need for the project. 2. Then get a sheet of metal from your hardware store. You can find sheets in the roofing section. 3. Use tin snips to snip the metal to the opening measurements of your frame. (use gloves too if you can so you don't cut your hands)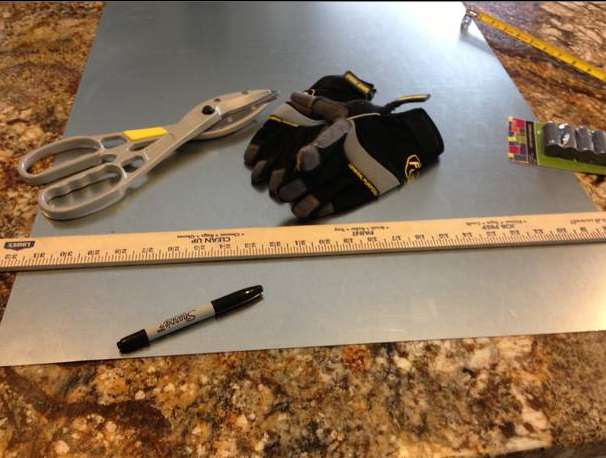 4. Lay the fabric on your work surface, and then lay the metal sheeting in the center of the fabric. Fold the fabric as if you were wrapping a present, folding the edges in at an angle and securing all sides with either duct tape or painter's tape. 5. Once the metal is wrapped in fabric, place the wrapped metal in the middle of the frame opening and secure within the frame with the metal prongs that are included with the frame (they were originally meant to be used to secure the glass to the frame).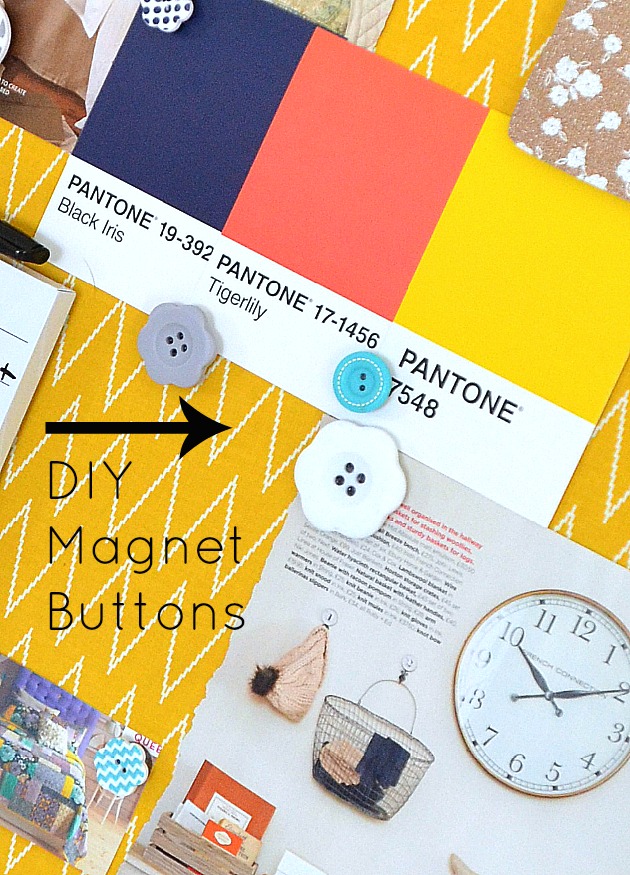 Now your Inspiration Board is ready to use!
If you want to make some button magnets like the ones I made, all you have to do is attach the magnets to the buttons with adhesive like e9000. Just let the adhesive set for at least 24 hours for best results.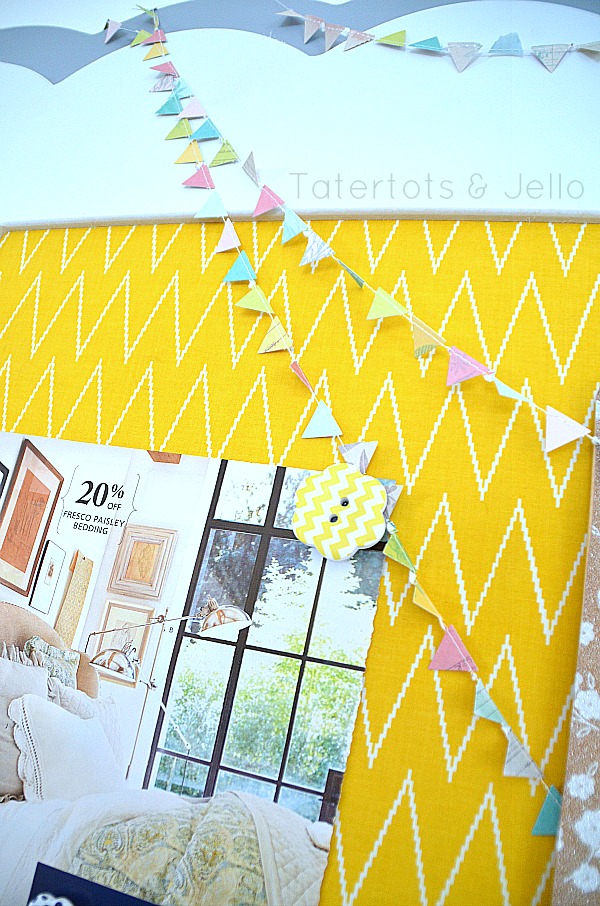 This is a super easy way to add some color and dimension to your work space. And it's no-sew!
Thanks for letting me stop by!!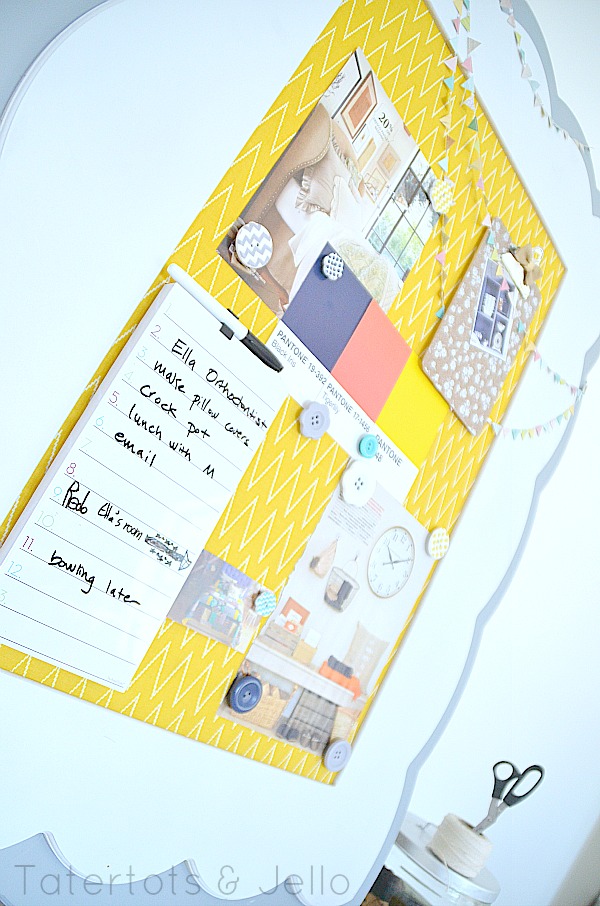 You can find me at Tatertots and Jello. I love sharing creative tutorials every day. I'd love to have you come over and say hi!!
xoxo

~
---
Comments
I love this project!

by Cindy
February 27th, 2013 at 1:43 p.m.

I love love love this project. Did you use 2 different sized frames? And then glued them together? I am hoping to make a few of these as gifts too. So if you can fill me in!! I would love it! Thanks!!

by Lauri
February 28th, 2013 at 10:03 a.m.

Where did you get the 30 x 40 frame? I can't find one that large.

by Barbara Gardner
February 28th, 2013 at 4:53 p.m.

I love the project but that is one expensive magnet board. I went to look at the frame you have and all of them at the size you have are $79.00! That is way more than I want to pay for something like this. Cute idea though. But the frame really added a lot! I guess I will have to wait till I get my Dremel Trio. Then I can make my own frame. That will bring the cost down in a BIG way. With that tool you can not only cut it out but do the routing as well. Since it is double layer, it makes it perfect since the trio is only meant to cut through 1/2" boards. So making two and layering will be perfect. It will be a couple of months before I get the trio. I will let you know how it comes out.

by Erin
June 06th, 2013 at 9:50 a.m.

Wonderful. Thanks for sharing. They are beautiful and make a great gift.

by Donna
January 04th, 2014 at 12:08 a.m.

Yeah!! what a board..The design is so much better.I like all these.A Lot of thanks for sharing this with us. Slant Board for Children

by Slant Board for Children
December 26th, 2015 at 8:58 a.m.