Project Design Team Wednesday~Easy Zombie Outfits
Posted by administrator on Tuesday, October 1st, 2013

Today we've got a special guest Project Design Team Member ...
Our good friend Nike from Choose to Thrive. As you can see she's super talented and wonderfully nice as well.
Check out what she did with Zombie Apocalypse ...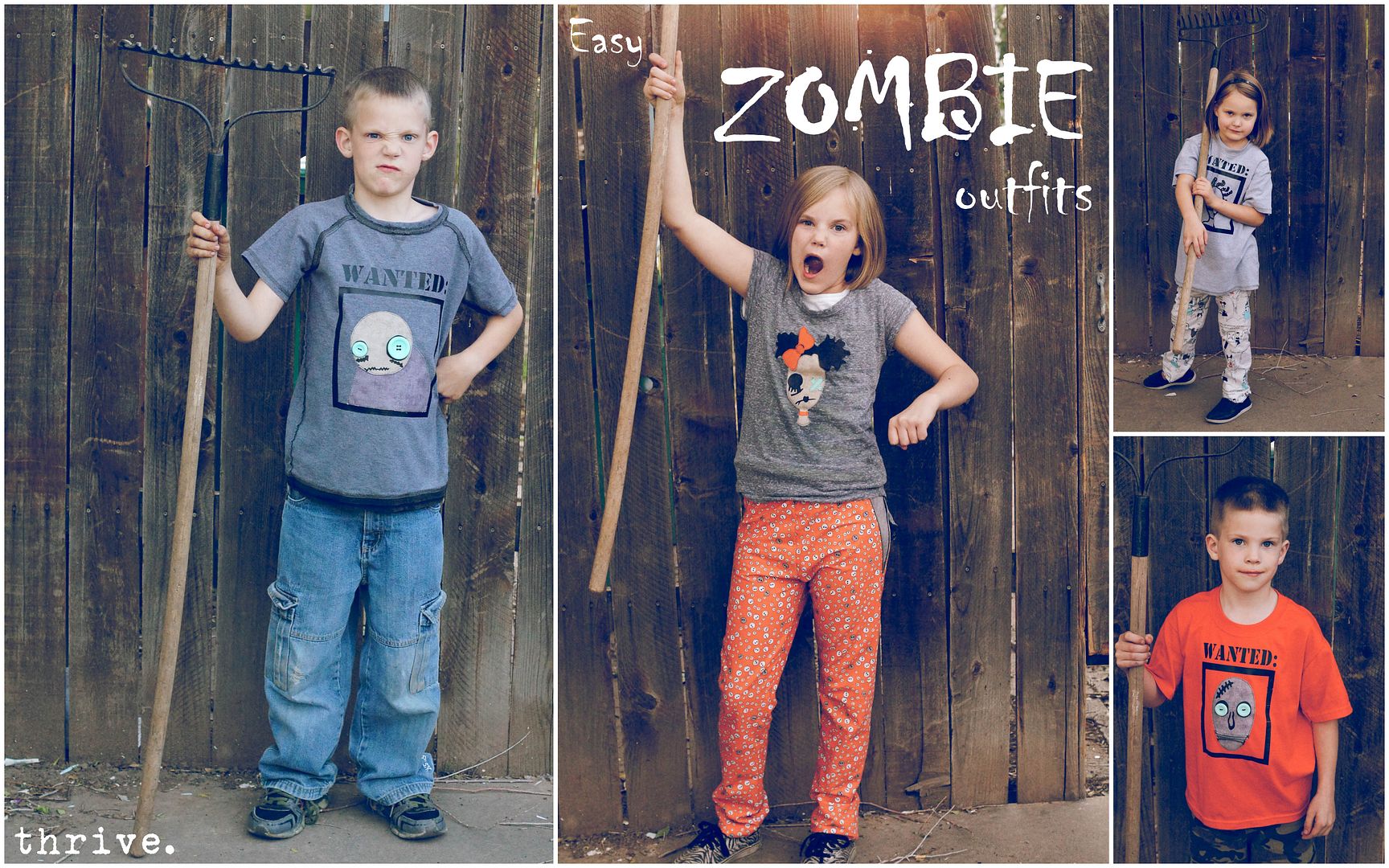 Hi there! I'm Nike from Thrive and excited to be here at Riley Blake Designs fending off zombies with you.
Today I wanted share some simple ways to use Riley Blake Sew Together notions and new fabric-inspired appliques that I created to punch up your wearable outfits for both boys and girls. And since its October, I was psyched to get my hands on the new Zombie Apocalypse line from Emily Taylor Designs. Using this funky fabric + texture from the notions line, my kiddos are decked head-to-undead-toe in their apocalyptic finest.
Ready to snaz up your wearables?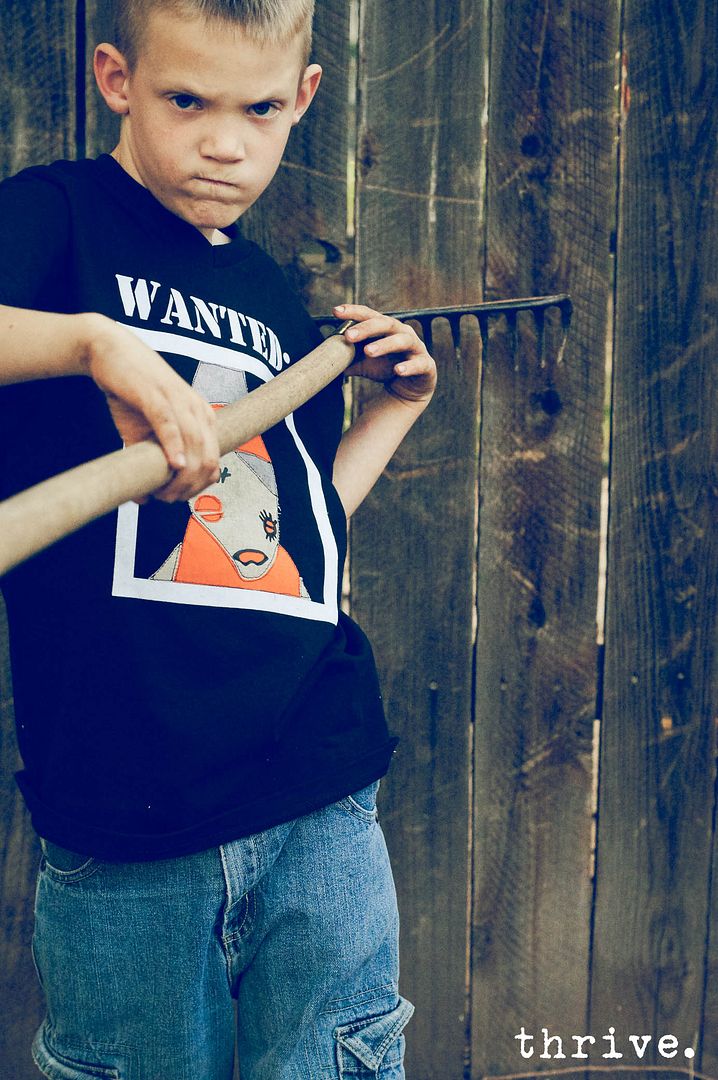 Grab a pitch fork.
Supplies:
Zombie Apocalypse fabric of choice
T-shirts (color of choice)
1" and 1.5" round matte finish buttons (olive, aqua, orange)
1 yd. Zipper by the Yard (licorice black)
1/4 yd. Heat 'n' Bond LITE
Free Download Zombie Apocalypse Silhouette Cutting Files
Instructions (Pants):
I love making simple pants for my girls, but sometimes they're just a little too 'blah.'
Add some flair to your favorite pants pattern with zipper-lined cut outs.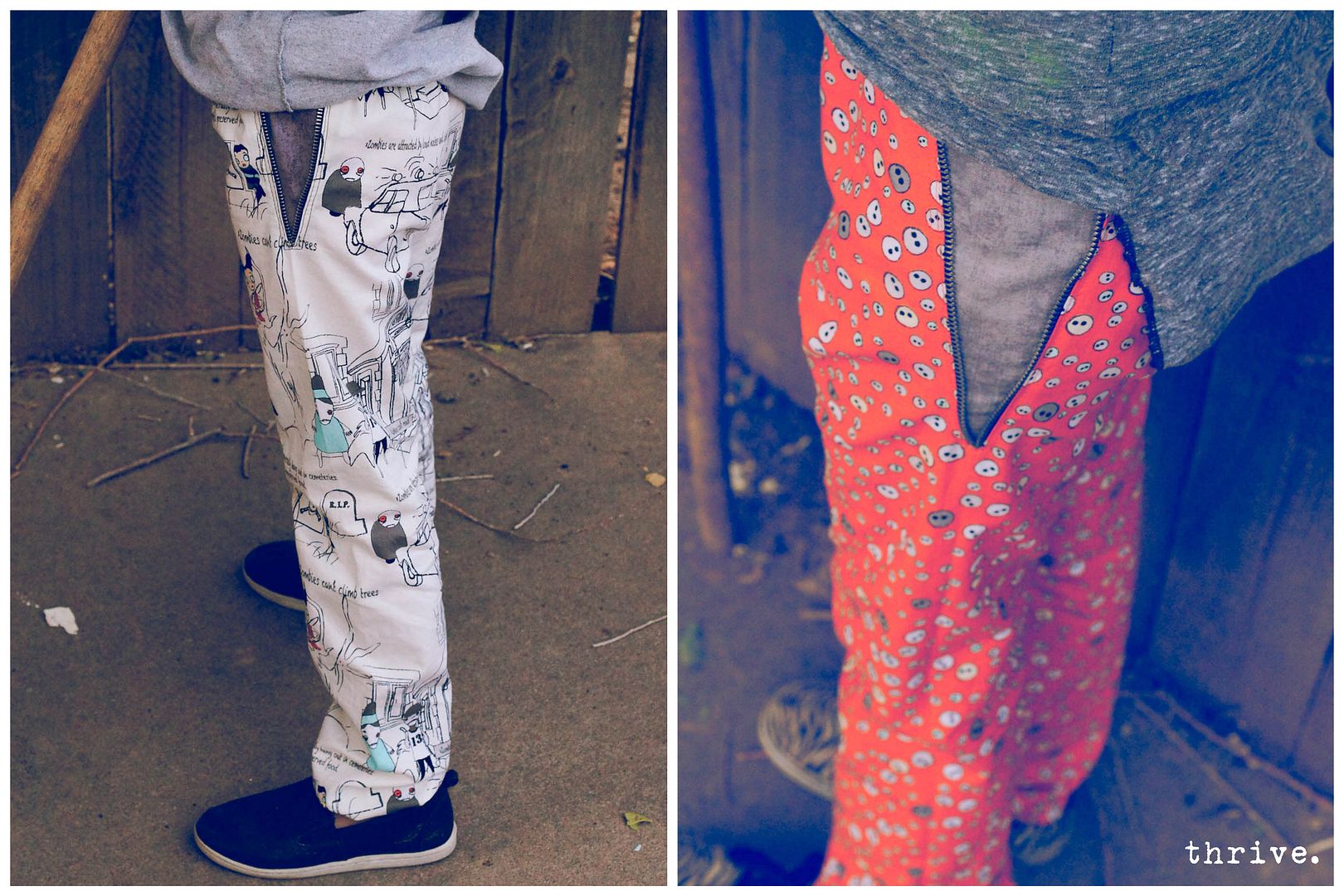 This was so easy!
Before adding the waistband, make two vertical slits on the sides down to about the crotch seam. Press raw edges under 1/4" towards the center.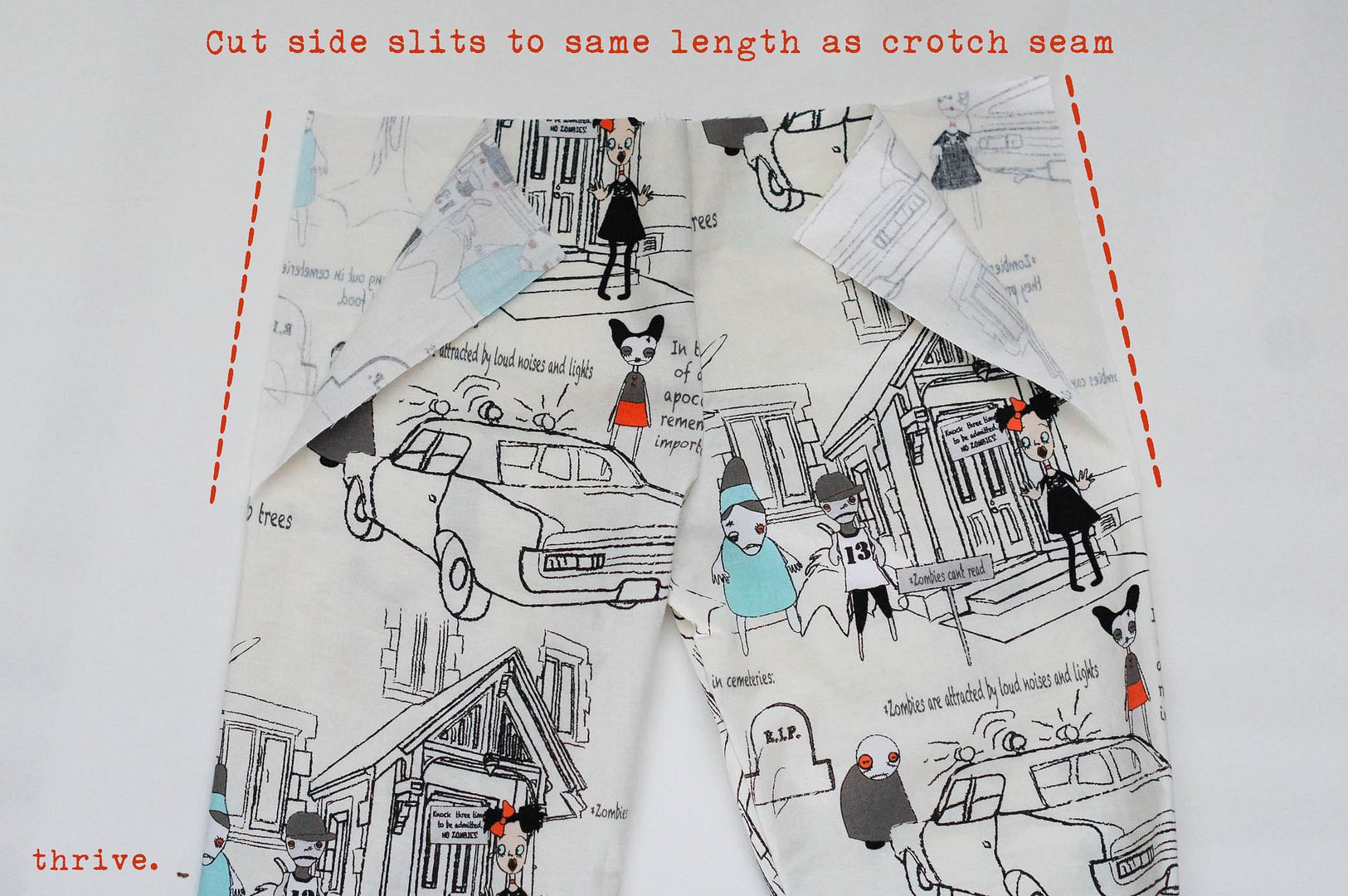 Cut two rectangles from coordinating fabric 3-4" wide and as long as each side slit + 2 inches.

Cut each rectangle into a v-shape and line with Riley Blake zipper by the yard in Black licorice. Hand or machine baste zipper in place.
Attach zipper panels to pants by top stitching in place.
Attach waist band as usual.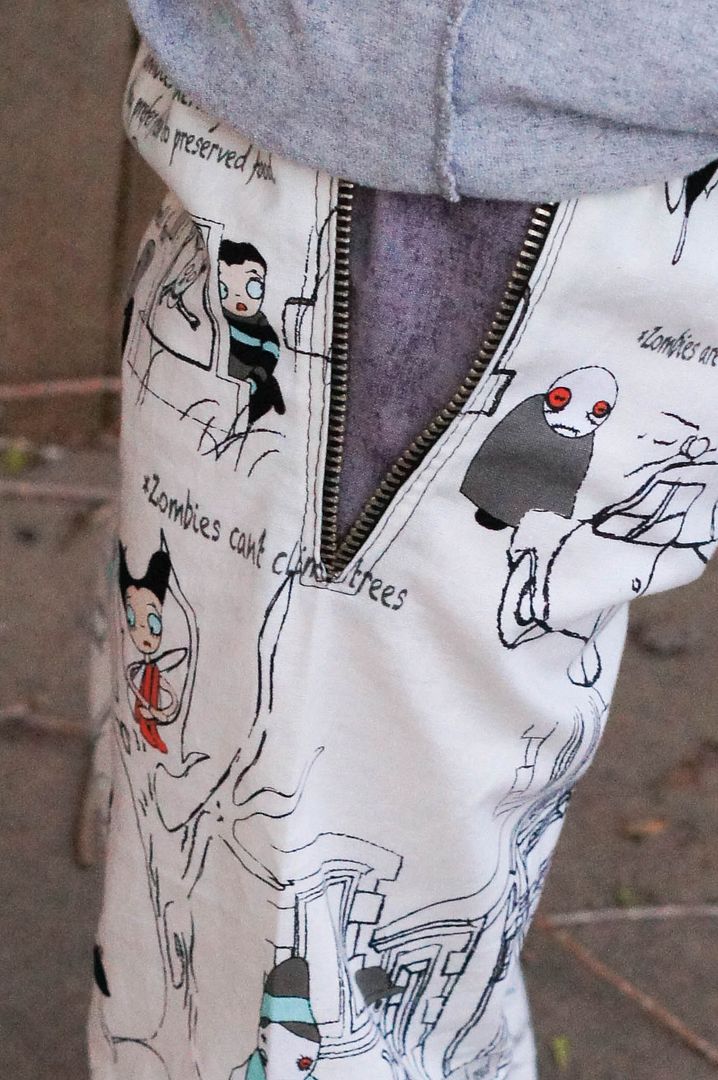 Instructions (T-Shirts):
Chanel your inner Zombie hunter on matching t-shirts using iron-on vinyl, notions, and applique designs from the fabric pattern below.
I cut my appliques using files I created for the Silhouette CAMEO. You can download them for free HERE.
(No Silhouette machine? No problem!
I traced and hand-cut appliques of my favorite fabric shapes with good 'ol scissors before I got my machine and it works great, too.)
I started with traditional fabric but quickly got caught up using additional textures to create new looks.
Here's what I came up with.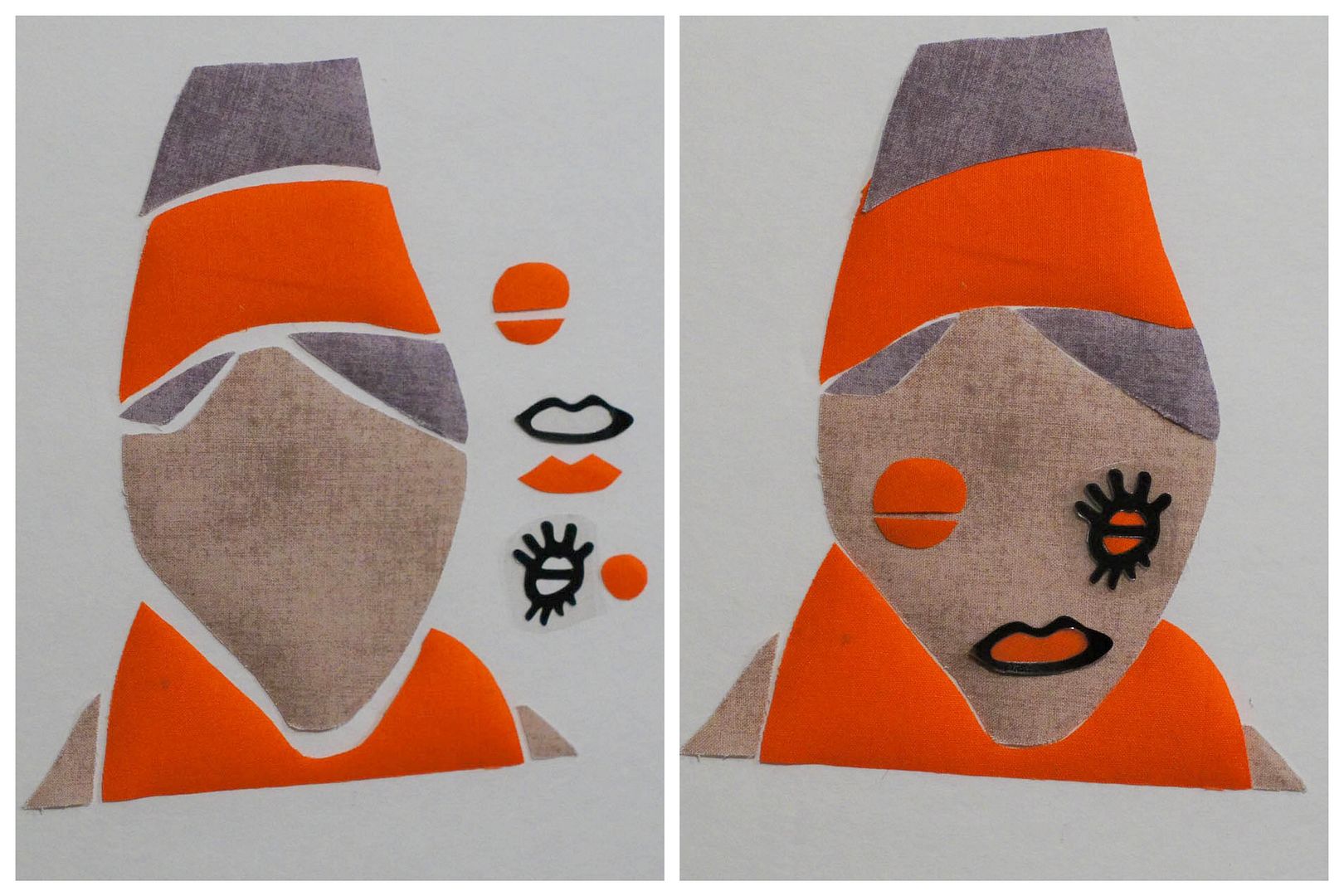 (Orange basics, ** blenders, black iron-on vinyl)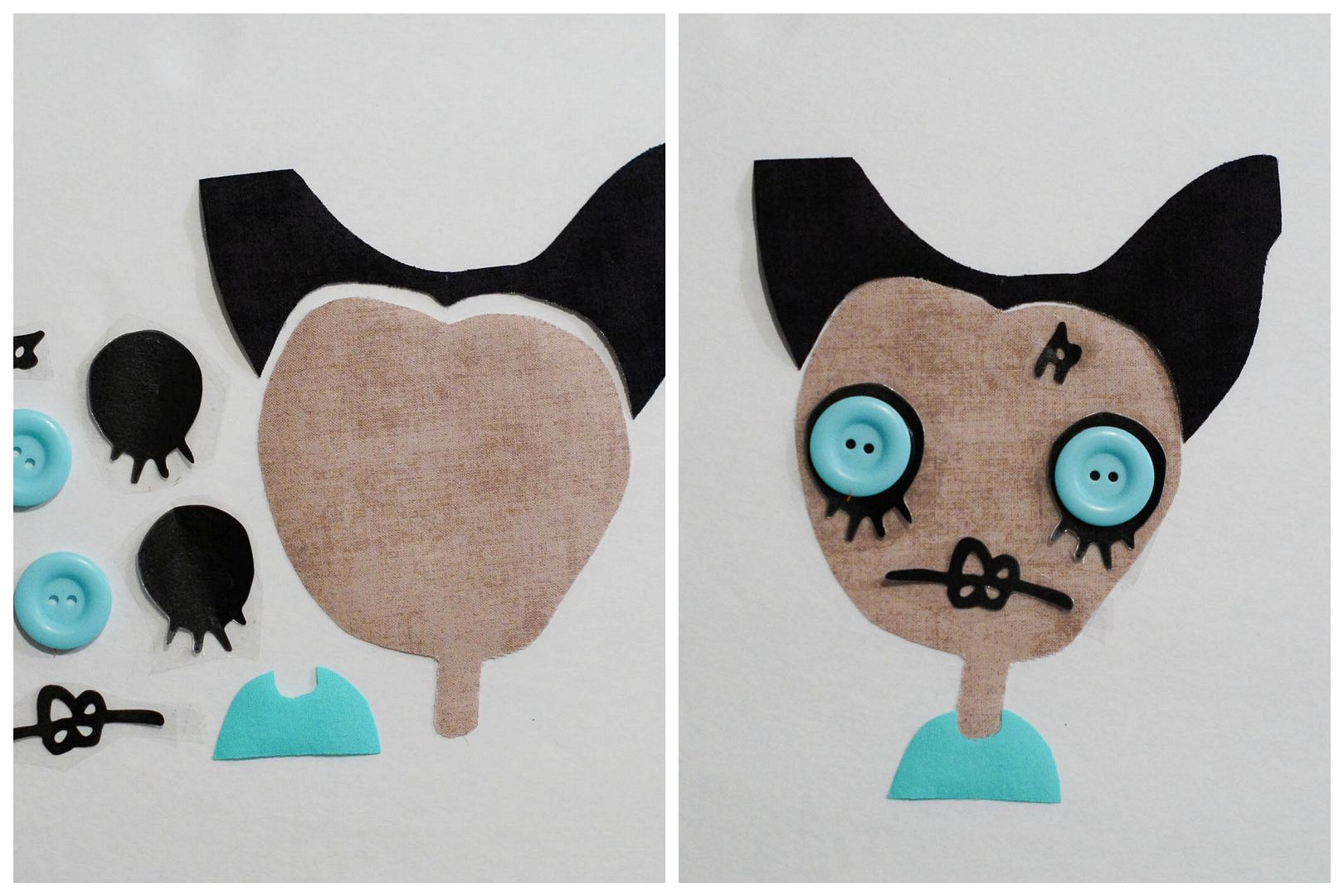 (1" round matte buttons AQUA, blenders, black iron-on vinyl)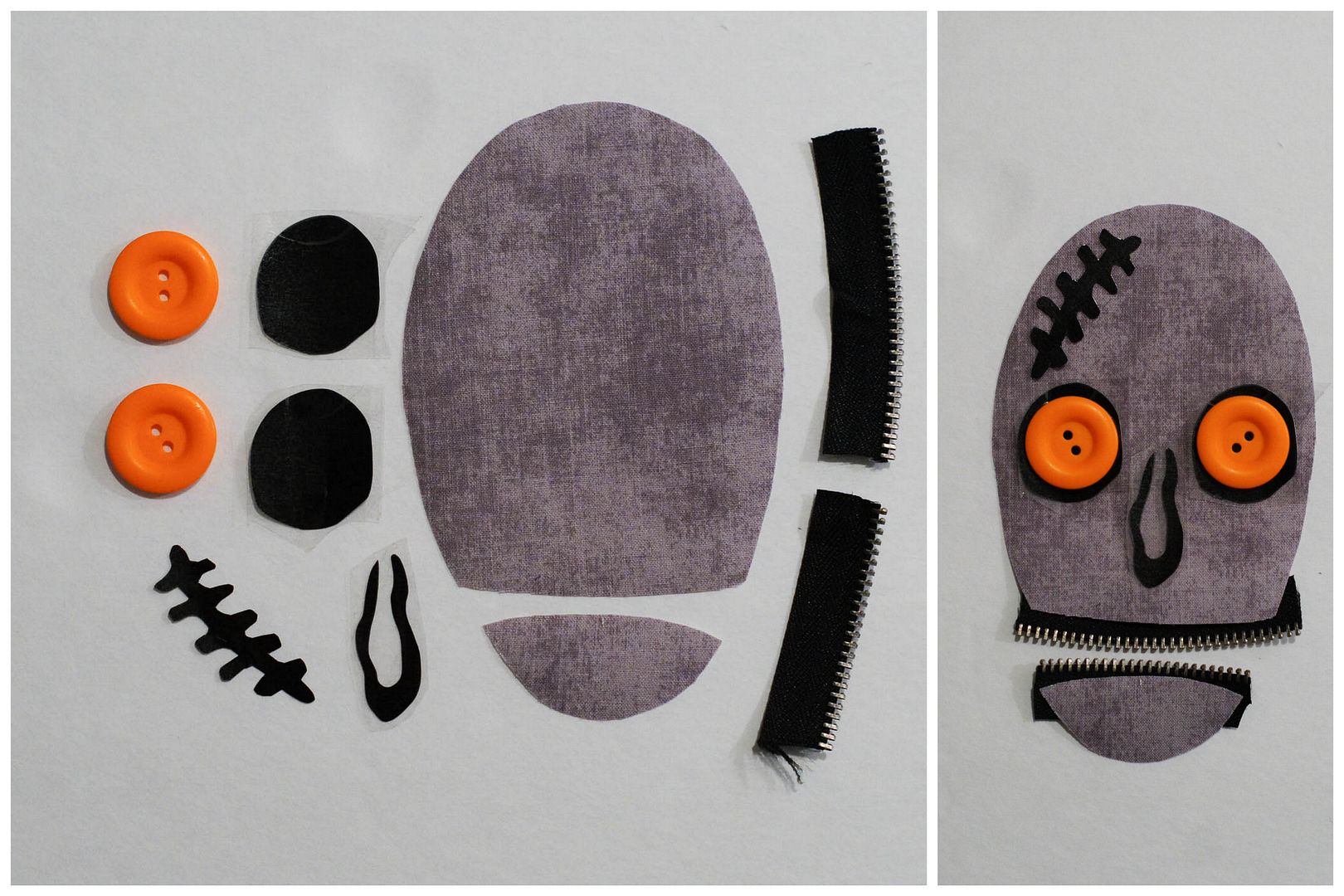 (1" round matte buttons ORANGE, blenders, zipper by the yard BLACK LICORICE, black iron-on vinyl)
(1" round matte button AQUA, black iron-on vinyl, )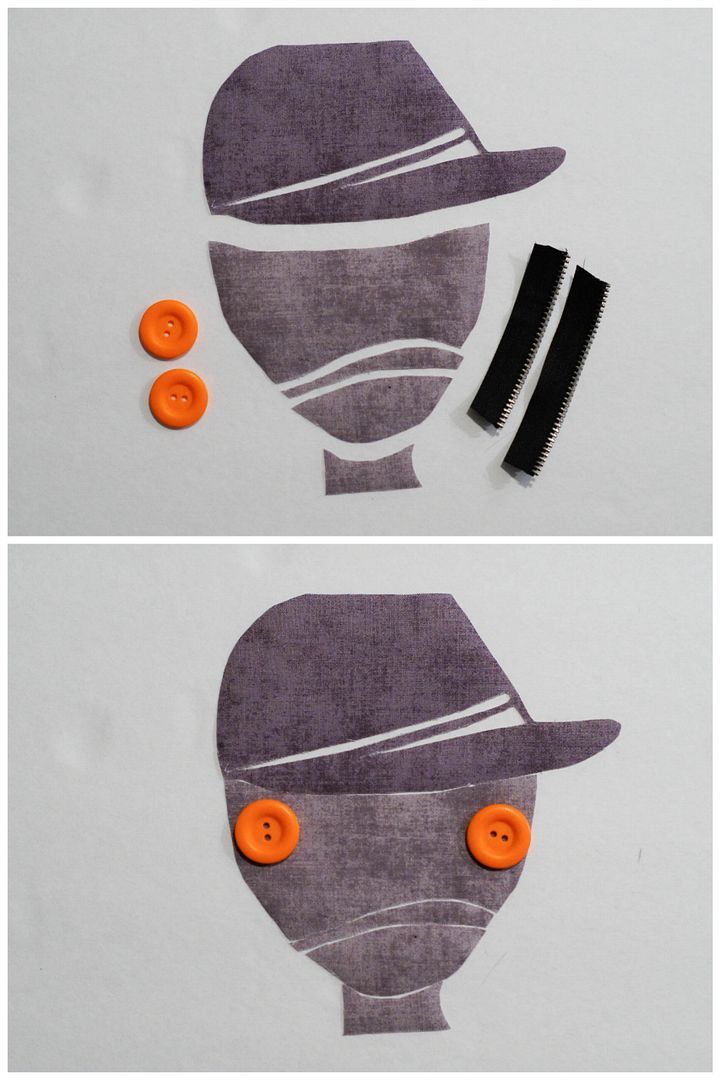 ( 1" round matte buttons ORANGE, blenders, mouth with or without zipper by the yard BLACK LICORICE)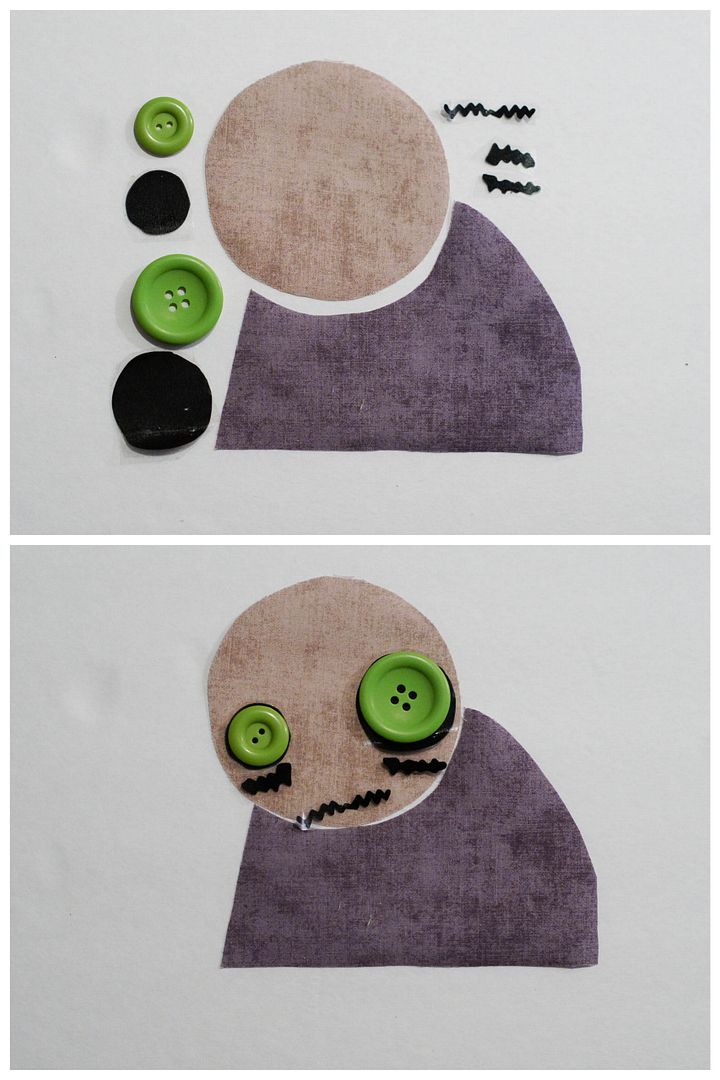 (1" & 1.5" round matte button OLIVE, blenders, black iron-on vinyl)
You can sew your applique pieces straight to the shirts or iron them on first. I always go with an iron-on product like Heat 'n' Bond to make sure that applique won't budge. I like the LITE version when I'm going to be top-stitch around my designs. If you'd rather skip that step, I'd recommend using the ULTRA version for a true, no-sew bond.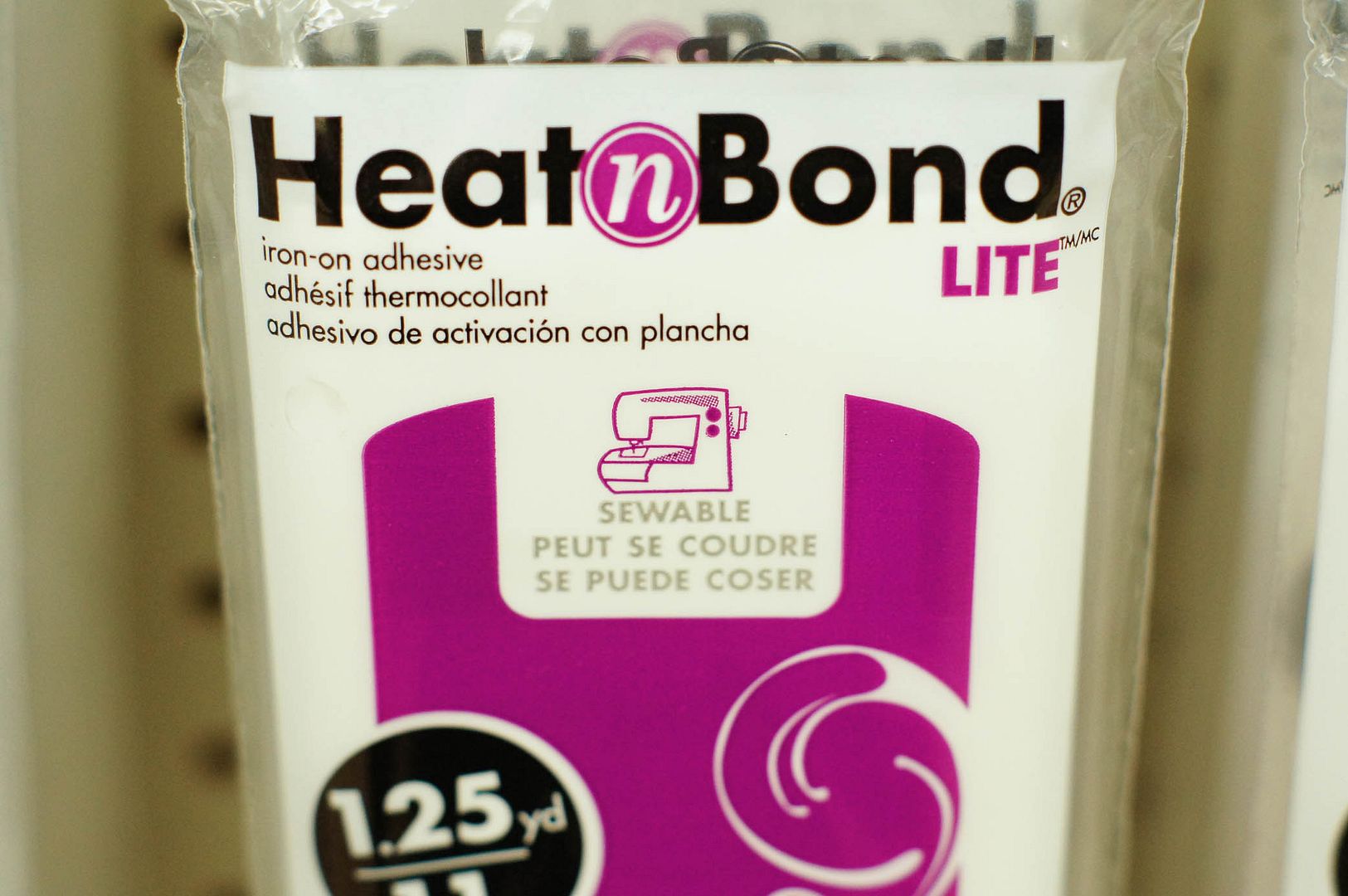 After you iron Heat 'n' Bond on the back side of the fabric, it should be nice and smooth. At this point, sew on any zippers to applique pieces (like mouths with zipper teeth). Then trim away the excess before ironing to the shirts.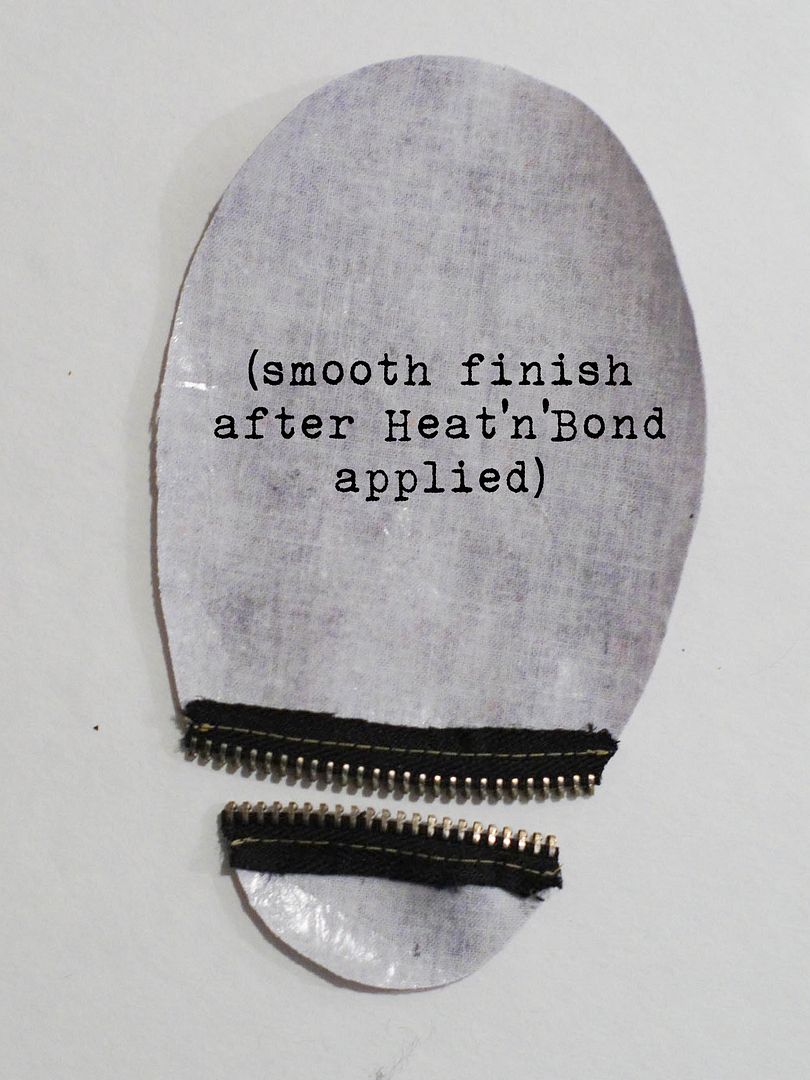 All that's left is to top stitch around applique edges (if desired) and add attach buttons.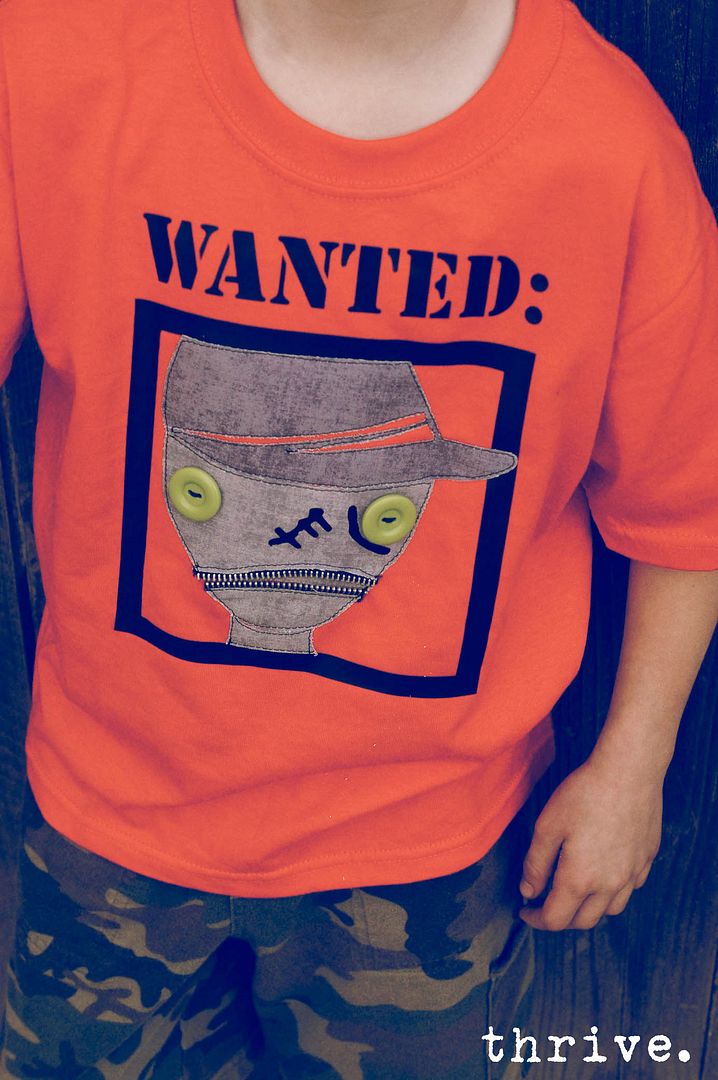 But I gotta warn you …
once you start making Zombie gear, you won't want to stop!
I haven't yet. See?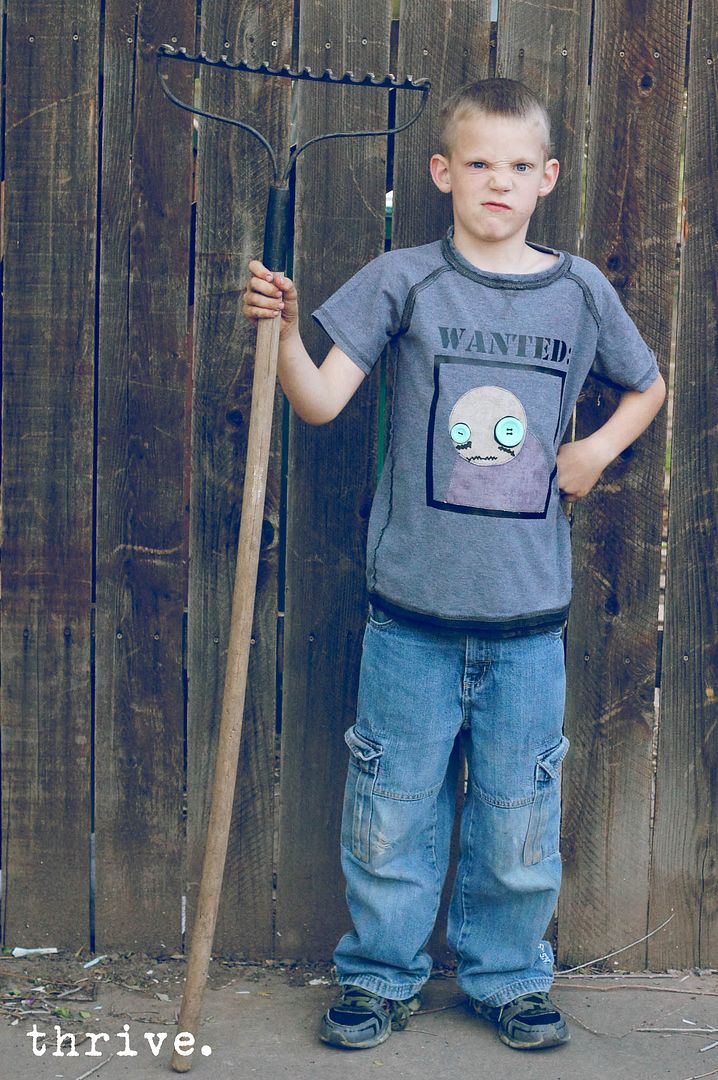 Seven shirts, two pants and counting.
I hope you enjoyed these simple ideas for embellishing your wearable sewing projects using notions and appliques. For more free Silhouette downloads and clothing tutorials featuring Riley Blake fabric (like my girls' Fall Leaf skirt), please come say hi over at Thrive.
---
Comments
What cute ideas! Love them all!

by Jana
October 02nd, 2013 at 9:55 p.m.

Love!!! I have the fabric, but I haven't been able to open the applique downloads. ????

by BrandieB.
October 31st, 2013 at 1:28 a.m.

I so loooooove this line of fabric!!!

by Jenni Trimmer
November 21st, 2013 at 5:30 a.m.