Project Design Team Wednesday~ Bedside Kid Tote
Posted by administrator on Wednesday, November 20th, 2013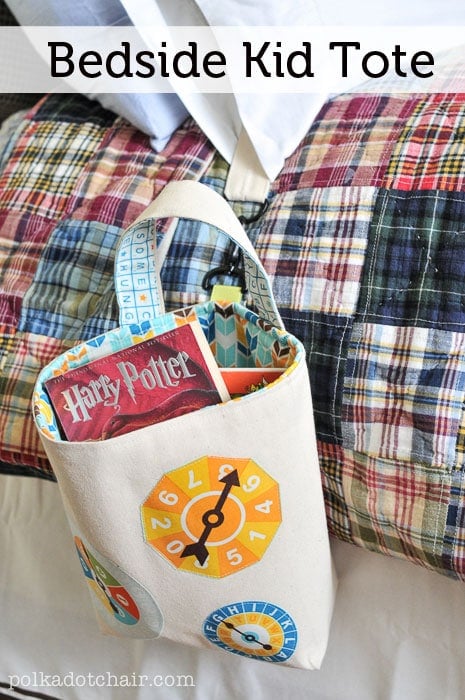 Hello Riley Blake readers, I am Melissa Mortenson and I blog at the Polka Dot Chair. I would love for you to stop by my blog and say Hello! I've got HUNDREDS of free sewing and quilting tutorials over there that I'd love to share with y'all! Plus I'm giving away a Fat Quarter Pack of Riley Blake's Lost and Found Fabric!!! So, stop by and enter! Today I am going to be sharing with you a tutorial for this Bedside Kid Tote. It's a little bit different than other bedside totes, in that it attaches to a pillowcase not the mattress. I thought this one might be easier for little hands to reach into, instead of one much lower on the bed in the box springs. Plus it will fit your bed no matter what the size or height of your mattress. You can always still attach it to the space between the box spring and mattress if you like.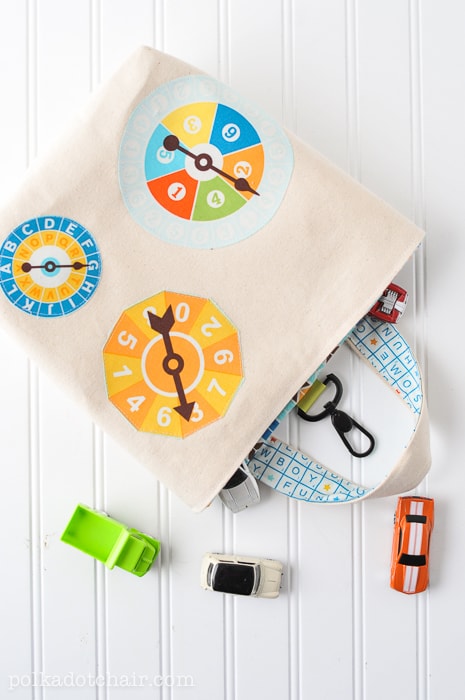 It has a hook on it, so a kid can pack up their tote and carry it around with them during the day- they can even attach it to other things as they like! (like maybe somewhere in the car???)-- You just leave a "D" ring attached to the pillowcase---- makes for easy on and easy off.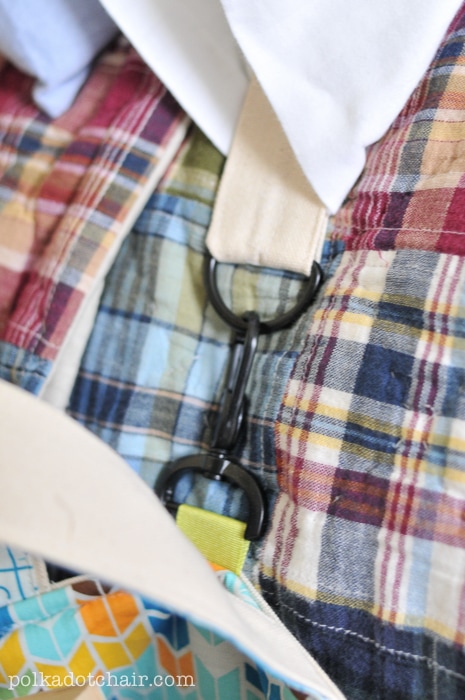 The D ring is attached to the pillow case with a SAFTEY pin, with emphasis on the safety part… I'd recommend ones that are used for diapers to make sure they won't un hook and hurt a kid. This tote attaches to my sons bed on one of his "fancy" pillows which is code for "the ones that Mom won't let him sleep on."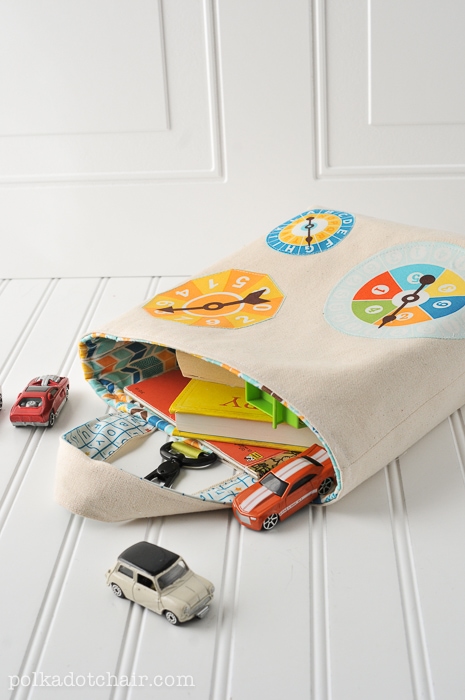 Want to make one? Here's how!
You'll need:
1/2 yard fabric for the lining (I used Fun & Games line by Riley Blake Fabrics)
1 Fat Quarter to fussy cut for the appliqués on the front
1/2 yard canvas
1/4 yard for handle lining Fusible Fleece Heat N Bond Lite by Thermoweb
Swivel Hook and D Ring
4'' of 1 1/2'' wide ribbon
Large Safety Pin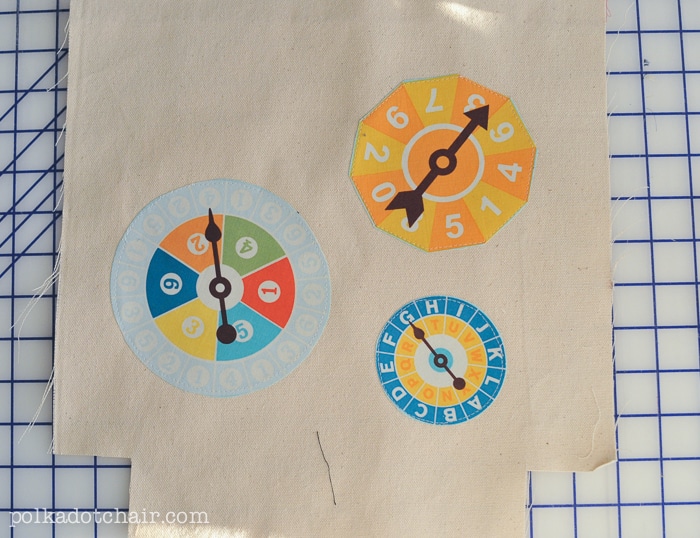 To begin: Cut out from the canvas 2 squares that are each 13'' x 13''. From the bottom corner of each square cut out a 2'' x 2'' notch. Roughly cut out 3 images from the Fun and Games print that you'd like to appliqué. Iron Heat N Bond lite to the back of the 3 images. Peel off the backing and iron onto one of the 13'' x 13'' pieces of canvas. Straight stitch around the edges of each appliqué piece. Sew the 2 pieces of canvas right sides together with a 1/2'' seam allowance. Sew up the 2 side seams and the bottom seam. Press the seams open.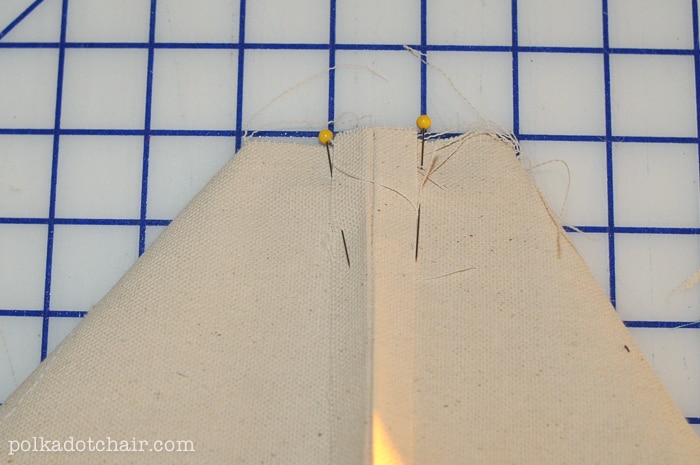 Pinch the corners of the tote (the notched portion) and sew right sides together with a 1/2'' seam allowance. Set tote outside pieces aside. Cut 2 pieces of canvas and 2 pieces of handle lining fabric to 3'' x 13''. Sew one piece of canvas to one lining piece along the long side with a 1/2'' seam allowance. Press seam towards canvas. Turn under the remaining 2 long edges of the lining and the canvas 1'' and press in place. Fold the strap in half, wrong sides together and stop stitch along both ends. Do this twice, so you have 2 handles, one for the tote and one to pin to the pillowcase.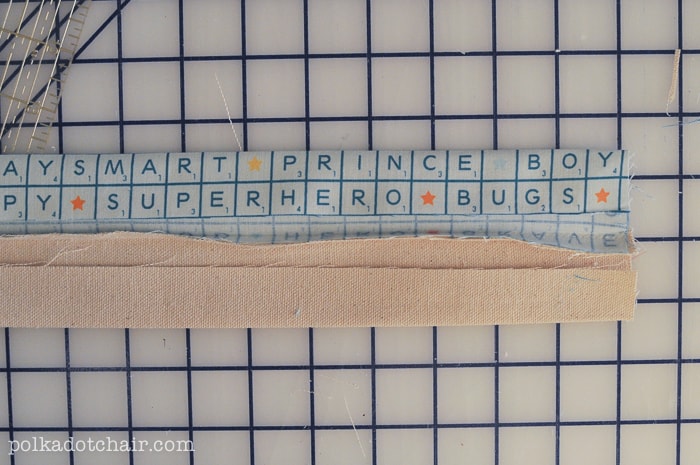 Sew one of the handles to the right side of the back of the sewn tote outside piece, with each handle 3'' in from the edge of the fabric.
Feed ribbon through a swivel hook. Pin to the tote in-between the handle pieces and stitch down. Pin so that the top of the swivel is 3/4'' lower than the top of the bag- you will have extra ribbon hanging off the edge- that is okay. To construct the lining, cut out 2 pieces of lining fabric to 13'' x 13'' . Cut out the same 2'' x 2'' notches in the bottom of the lining fabrics. Cut out 2 pieces of fusible fleece the same size as the lining pieces and apply to the lining. Construct the tote lining the same way you constructed the tote outside.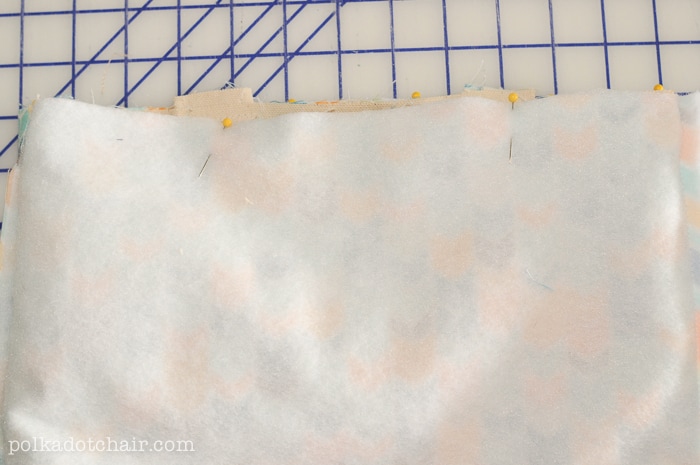 With the tote right side out and the lining wrong side out, slip the tote into the lining matching seams and centers. (The tote pieces are right sides together). Stitch around the top of the tote with a 1/2'' seam allowance leaving a 4'' opening in the outside of the bag so that you can turn it right side out. Turn the tote right side out, press well. Top stitch along the top of the tote catching the opening as you sew.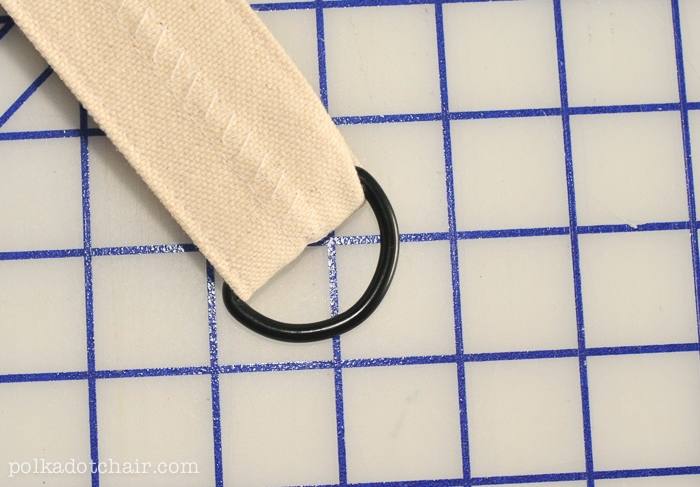 Feed the D ring through your 2nd sewn strap piece. Fold it in half and pin inside the pillowcase. Just a note: This project would not be recommended for very small children as the D ring could pose a chocking hazard if it came loose. Make sure you stop by my blog and say Hello!!
I'd also love to connect with you online!

---
Comments
What a fun project. I plan on making them for my granddaughters Great for their books at night.

by Elaine Chaffee
November 20th, 2013 at 2:01 p.m.

Hi Melissa - I am not surprised to find it is you behind such a great & beautifully written tutorial. Love the design, think I might have to add these to my to do list for Christmas gifts :)

by Jodi R
November 20th, 2013 at 2:27 p.m.

Great tutorial and bag! Thank you for sharing, this would make a great present for my granddaughters.

by Cecilia
November 20th, 2013 at 3:09 p.m.

I would love to make this for my granddaughter who loves to read, constantly. LOL

by Rhonda
November 20th, 2013 at 5:23 p.m.

Great idea for kids!! Good place to put their treasures like match-box cars and legos before going to bed!

by NancyL
November 20th, 2013 at 11:10 p.m.

LOVE THIS PROJECT>JUST RIGHT FOR GRANDKIDS! THANKS FOR SHARING! msstitcher1948@yahoo.com

by LINDA
November 21st, 2013 at 10:04 a.m.

This looks great! I just can't figure out how the bag full of books doesn't yank the pillow right off the bed! Is it magic? LOL

by Heather
November 21st, 2013 at 12:20 p.m.

What an adorable project!

by Lori Kae
November 22nd, 2013 at 2:25 a.m.

I am so going to make this tote. Thanks. crystalbluern at onlineok dot com

by Debra Neiman
November 24th, 2013 at 1:17 p.m.

This is a wonderful project! I plan on altering it to suit my teens! It always seems that their cell phones (aka alarm clocks), fall under the bed, behind the bed, etc. This keeps everything close by within reach! Thanks!

by Kelley H
November 25th, 2013 at 5:56 a.m.

I love this idea! perfect for kids loft beds.

by judith martinez
November 29th, 2013 at 1:55 p.m.