DIY Laptop Sleeve Clutch
Posted by administrator on Wednesday, January 22nd, 2014
Hey there Riley Blake Readers!! I'm Melissa Mortenson, author of the Polka Dot Chair Blog.I adore being a part of the Riley Blake Fabrics Design team, dreaming up new projects to share with you all year!

Stop by my blog today for a chance to enter to win a Riley Blake Fabrics Fat Quarter Pack!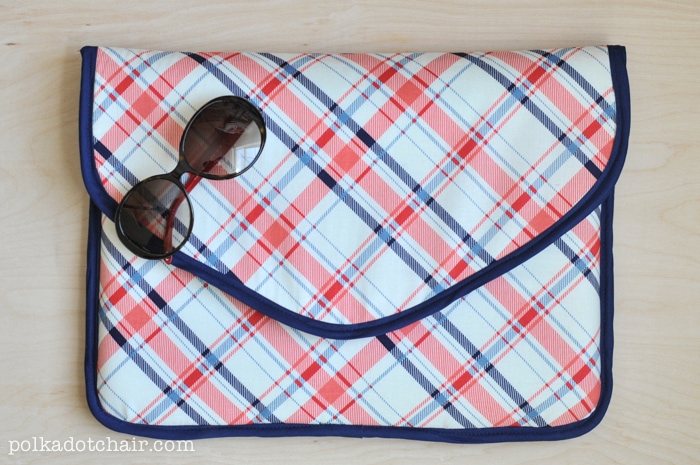 Today I'm going to share with you how to make this Laptop Sleeve Clutch! It's padded to make it extra sturdy and simple to sew, you can whip one up in an hour or so! I used Vintage Verona Cottons for my project, but you can use any fabric you like. This pattern would also work great for laptop case for a guy.
Here's what you'll need to make it:
1 yard of fabric for sleeve outside
1 yard of fabric for sleeve lining
1 yard of 1/4'' wide foam
Large Snap
1 package of double fold bias tape
Thread to match
Walking foot for sewing machine
Recommended: Binding Clips
Cutting:
2 pieces 16'' x 12'' from outside sleeve fabric
1 piece outside fabric from flap pattern piece (you can download the pattern piece here)
2 pieces 16'' x 12'' from lining sleeve fabric
1 piece lining from flap pattern piece
On one of the 16''x12'' outside AND lining pieces, cut a gentle curve along one of the 16'' sides. These pieces will become the front pocket.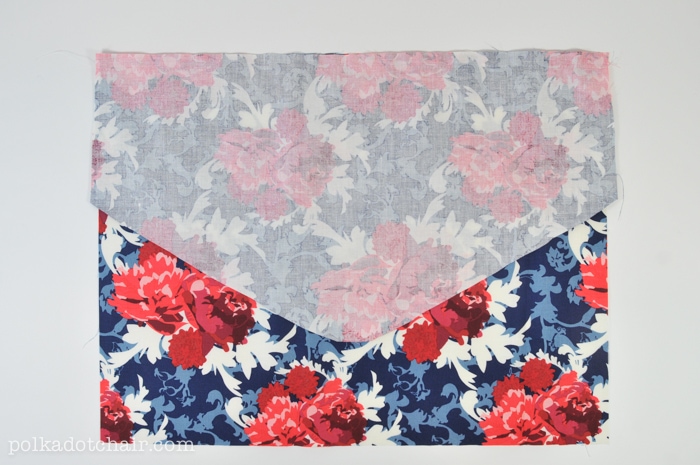 Assembly: Sew flap to the 16'' x 12'' NON CUT lining piece, right sides together.
Press seams open. Repeat for outside fabric pieces.
Open up this piece and cut out a piece of foam the same size as the the entire sewn piece.
Cut a piece of foam the same size as the 16'' x 12'' fabric that has the curve cut out (the pocket pieces). Make a "sandwich" with the foam in the middle and the WRONG sides of the curved 16'' x 12'' case outside and lining pieces facing the foam. We'll now call this the front pocket piece. The right sides of the fabric will be facing out. Use binding clips to hold the fabric in place. Make sure all layers are lined up and smooth.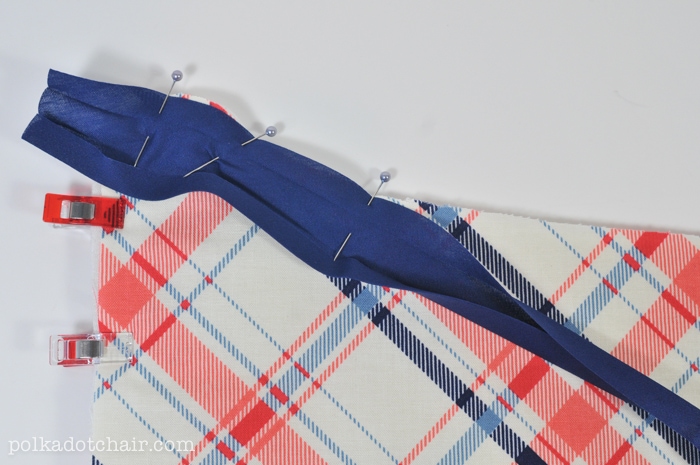 Cut a piece of double fold bias tape slightly longer than the curve you cut in the 16'' x 12'' piece. Open up the double fold bias tape and with right side of the bias tape facing the right side of the pocket "sandwich", pin the bias tape to the fabric with raw edges even.
Using a walking foot on your sewing machine, stitch the bias tape to the pocket, close to the first fold in the bias tape (white thread used to show contrast for photos, but use thread that matches your bias tape).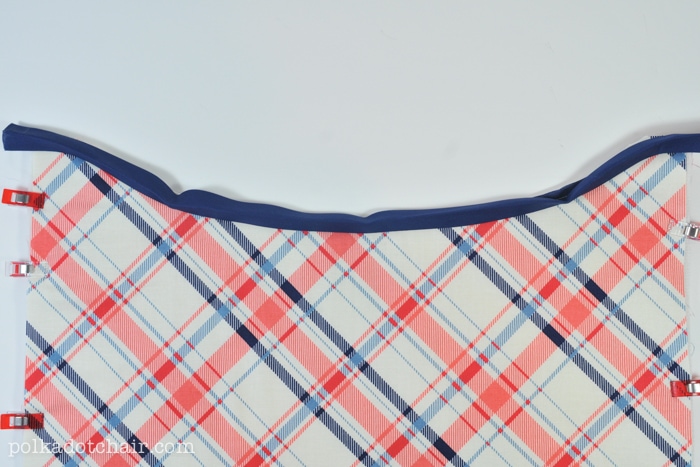 Refold the bias tape and stitch it down. Make another "sandwich" with the sewn flap pieces and large cut piece of foam. Right sides facing OUT. Secure with binding clips.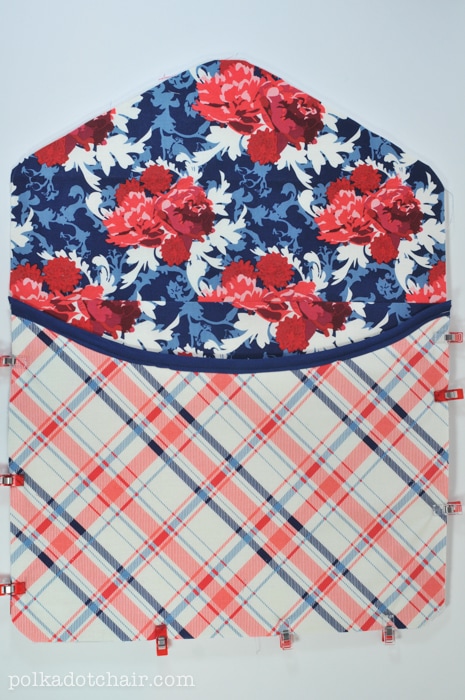 Double check that your pocket piece fits PERFECTLY on top of the sewn flap piece foam sandwich. If it's not lined up, or if one piece is larger than another, trim them all to the same size. Round the bottom corners of the pocket and sleeve pieces. You don't want any 90 degree angles on the sleeve.
Using a walking foot, stitch pocket to sleeve using a 1/4'' seam.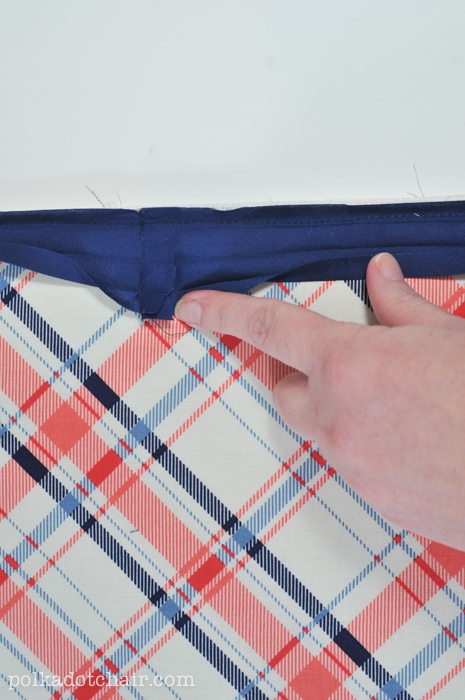 Apply bias tape to the entire perimeter of the sleeve using the same method you used when sewing the bias to the pocket piece. You'll need to match up the ends of the bias (do this the same way you would match binding strips on a quilt).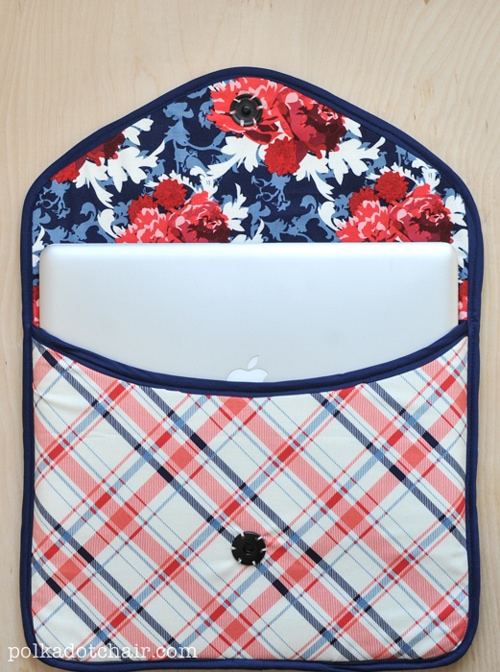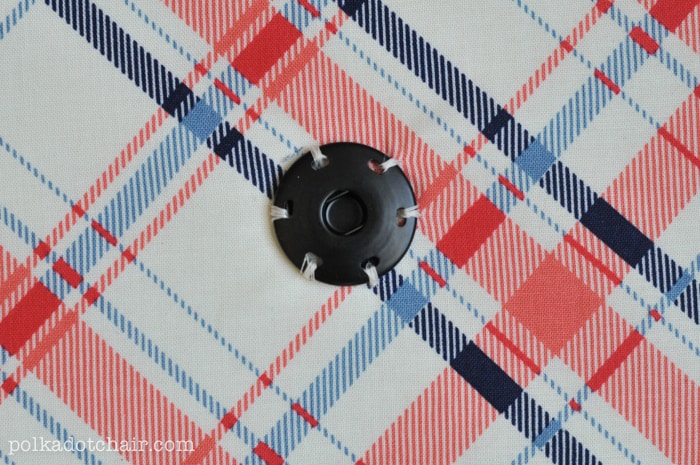 Sew a large snap to the front of the sleeve and the wrong side of the flap, being careful not to stitch through all the layers of fabric. You're done!
Connect with me:
---
Comments
Thanks for a great tutorial. I am "snow bound" today and this looks like a good project

by Cathy
January 22nd, 2014 at 6:38 a.m.

Great tutorial. Thank you. I followed the link for the flap template but am not finding it. Could this be checked please? Thank you.

by VickiT
January 22nd, 2014 at 8:47 a.m.

Such a Cute project and the fabric is LOVELY!!! Pinning :) xoxo

by Angelina-JoJo and Eloise
January 23rd, 2014 at 10:51 a.m.

This is adorable. I'm going to make one for my tiny MacBook Air. How much bigger would you cut the fabric around the dimensions of the laptop?

by Anna
January 25th, 2014 at 1:08 a.m.

Just got a new Laptop & I've been looking for a tutorial to make a cover for it, & this one is perfit! Thank you for posting it!

by Tambra Vandal
January 26th, 2014 at 4:38 a.m.

This is such adorable project. Love it!

by HemaMalini
January 28th, 2014 at 1:56 p.m.

Love this article

by Andrew Johnson
May 16th, 2014 at 4:36 a.m.