Project Design Team Wednesday ~ Make Your Own Dolly Diapers
Posted by administrator on Wednesday, April 23rd, 2014
Hello! It's Maggie from Smashed Peas and Carrots (www.SmashedPeasandCarrots.com) I am so excited to be here today working on the Riley Blake Design Team! I am a mommy to four little ones ages 1, 3, 5, and 7 and if your kids are anything like mine they enjoy playing with their stuffed animals and dollies while pretending to be mommy (and daddy!) My girls especially have enjoyed "diapering" their dollies and I thought it was about time I added to our stash of doll diapers since it had been a while since I made the first set and they have seen better days!
I just fell in love with Riley Blake's Lazy Days collection…so cute! I love the bright pops of color and that the prints in this line can work well for either girls or boys…cause boys like to pretend play too!
These Dolly Diapers fit most stuffed animals really well and can be made to fit a smaller doll by using the velcro strip on the front. They also fit Build-A-Bear dolls and American Girl dolls too…hooray! So who wants to make a stack? Let's get started then...
I created a PDF pattern for you to use. Just print it on from your computer using a printer paper size of US Letter (8.5 x 11 inches) and set the scale to 100%.You can find the PDF here: Dolly Diaper PDF
Dolly Diaper Tutorial
by Maggie Brereton
Fat Quarters of your choice (you should be able to make two Dolly Diapers from one fat quarter) 1/2 yard white fleece (will make 5 Dolly Diapers) Dolly Diaper PDF 1/2 to 1 inch wide velcro Coordinating thread Rotary cutter and mat or scissors
First, print off the pattern PDF and cut out. Fold your fabric in half and cut out the pattern on the fold, do this once per piece of fabric and fleece (you will need one fabric outer piece and one fleece inner piece per diaper). You should now have one diaper outer piece cut out in your fabric and one diaper inner piece cut out in your fleece.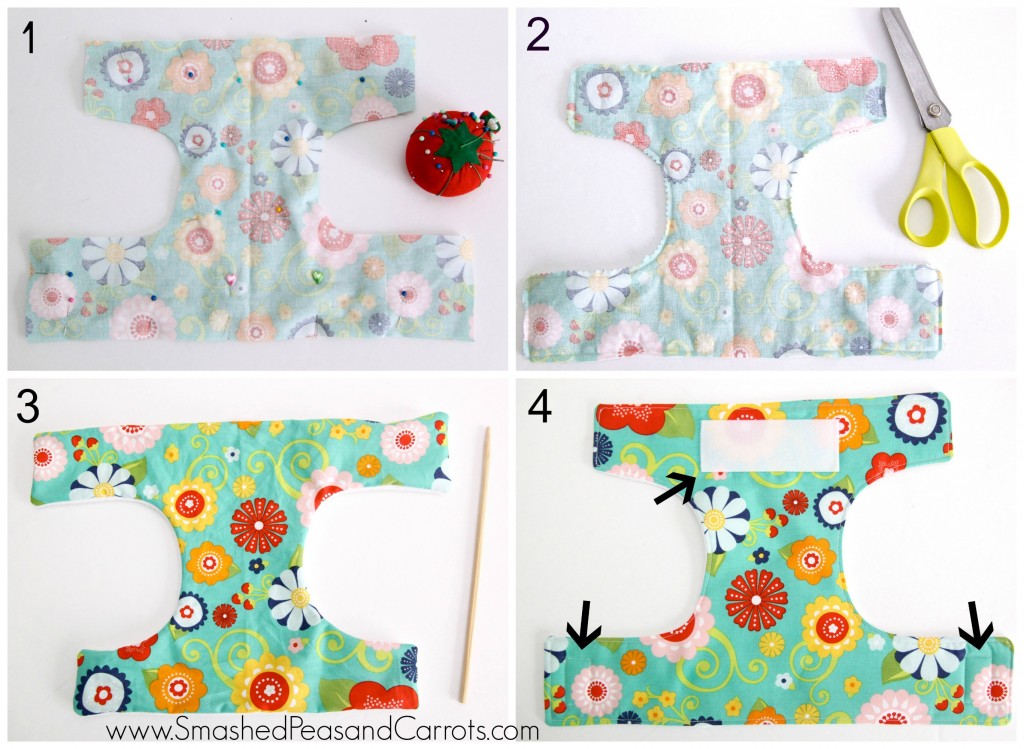 1. Pin the fabric outer diaper to the fleece (inner part of diaper) with right sides together. Make sure to designate an opening with your pins to turn this right sides our after it is sewn together (I tend to use a bigger set of pins for this so I don't forget!) Using a 1/2 inch seam allowance, sew around the entire diaper minus the opening we designated for turning! 2. Take pinking shears and clip the rounded edges of the leg holes so that they will lay flat once you turn the diaper right side out. Be careful not to clip the seam you just sewed! 3. Next, turn the diaper right side out using the opening we did not sew shut. You may need a chopstick or pencil to push out the corners. Now, using a 1/4 inch seam allowance sew around the entire diaper making sure to sew the opening we used for turning the diaper right side out closed. Press the diaper with an iron. 4. Cut two 1-inch pieces of velcro for the closure tabs on each side and one 4-inch piece of velcro for the front of the diaper. Place like shown in picture 4 and sew onto the diaper.
And there you go, you are done. Diapers for everyone…well, every doll anyways! Now off you go to make diapers for your littles to pretend play with…hours of fun I tell you!
Thank you so much for having me today, it was so fun to be here! Please make sure to stop by Smashed Peas and Carrots to find more inspiring sewing tutorials, DIY crafts, and delicious recipes for you and your family! Love, Maggie
---
Comments
So adorable! and looks like fun to make - can't wait to try this!

by Sally
April 23rd, 2014 at 3:39 a.m.

I LOVE THESE! My youngest granddaughter is learning to sew. This will be a great project for us to make together. Thank you.

by Susan S
April 23rd, 2014 at 4:16 a.m.

My little ones are going to love these! Thank you so much for sharing!

by Nikolette B
April 23rd, 2014 at 5:40 a.m.

Did you use poly fleece or cotton fleece, or does it not matter? Thanks for this tute - such a good idea!

by Christie
April 23rd, 2014 at 3:11 p.m.

These are adorable! Thanks for sharing. I love the owl print too. Even bought some, didn't realize it was Riley Blake. Thanks for sharing. Grandkids will love these. One granddaughter is just learning to sew. She will probably love them most.

by Nadine
April 23rd, 2014 at 9:52 p.m.

These are wonderful and they look easy enough to make. I've got a bunch of dolls I'm going to make the for. And of course all of the little girls in my life will think I am the most amazing auntie Barbie .awesome idea. Thanks for sharing. ..

by Barbara Senter
April 24th, 2014 at 4:26 a.m.

I downloaded in hopes of a granddaughter! Wish me luck on this...I love my grandsons but a girl could mighty nice too!

by Karen H
April 24th, 2014 at 5:21 p.m.

Thank you, these are so adorable.

by Sherry L
April 25th, 2014 at 4:46 a.m.

Yay! I'm so glad everyone is enjoying this tutorial and the pattern PDF! That makes me so happy :-) As for Christie's comment, it does not matter what type of fleece you use, I have used all sorts! I think the kind I used in these particular pictures is Anti-Pill fleece from Jo-Anns! Happy Sewing, everyone!! Love, Maggie

by Maggie from Smashed Peas and Carrots
April 28th, 2014 at 9:38 p.m.

Thanks so much for this. My granddaughter loves putting nappies on her dolls so this will save using the real ones.

by Eileen
June 04th, 2014 at 4:19 a.m.

This is the best! My daughter loves her diapers. Super easy to make and adjust the size. THANK YOU!

by Nat
June 08th, 2015 at 2:39 p.m.